Ever since Shel Holtz and Neville Hobson started the For Immediate Release podcast series in 2005 with The Hobson and Holtz Report in January of that year, finding out what our listener community thinks and wants has been important to us.
During the past six years, we've done two formal listener surveys, once in 2006 and one in 2009. Both provided us with invaluable information about our listeners' thoughts, their likes and dislikes, and their suggestions. Those surveys also gave us some insights into changing needs as time went by – our needs as presenters as well as those of our listeners.
Today, we're launching the 2011 listener survey in which we seek similar insights.
A few things have changed in three years. The main show is now once a week rather than twice. We have three sponsors today, not two – Ragan Communications and CustomScoop are joined by Pollstream. Tools like Friendfeed and Twitter play an increasingly-significant role in connecting the listener community.
And some things don't change: we're still fortunate to have a team of correspondents, established and valuable elements of The Hobson and Holtz Report podcast.
So we want to know how FIR and, specifically, The Hobson and Holtz Report, are in tune with our community. Is it a podcast that contains the content we think that people want? What about specific content elements in each show? What do you like best? Least? Where do you listen? How do you get hold of the MP3 files? Do you have suggestions or recommendations for us? And more.
So if you're a listener, we'd like to ask you to invest 20 minutes of your time and take the FIR Listener Survey 2011. It's open now and closes at midnight GMT on Tuesday September 20, 2011. We'll announce the results after the close.
You can start the survey right here: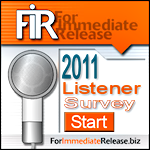 Thanks for your help and for your support.
(Cross-posted from For Immediate Release, Shel's and my podcast blog.)