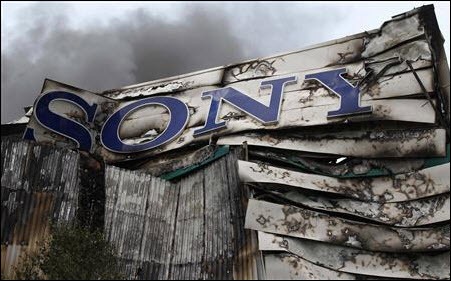 While emotional opinions and anger run high as looters roamed the night-time streets of many British cities, one of the most heart-breaking stories of consequential loss as a result of the violence and destruction in London this past weekend is the impact on many independent music labels following the total destruction of Sony's CD and DVD distribution warehouse in Enfield, north London.
The warehouse was the only one of its type in the UK.
A report in the London Evening Standard says that the independent music industry is facing its biggest crisis in decades as the arson attack by looters on Sony's warehouse destroyed probably the entire stock of CDs and vinyl from more than 100 small labels.
[…] New releases from the Arctic Monkeys and Charlie Simpson have been affected or delayed after all copies destined for the shops were destroyed.

XL Recordings, the company behind chart-topping Adele, is among those hit. But while it will be able to shift stock from Europe to cover the shortfall on her hit album 21, smaller niche labels fear for their very existence.

The sector has been hit so badly because Sony DADC stored and distributed the entire stock of indie marketing company Pias, which acts for more than 100 indie labels. There are even fears, not confirmed, that master tapes and hard drives have been destroyed, meaning recordings could be lost forever.
There is good news, though. The Guardian reports on a campaign to raise money for these indie labels via LabelLove, a website set up by to let music fans pledge their support.
As a business podcaster for the past six years, I strongly support independent music – Shel and I play a podsafe indie track at the end of every podcast, usually sourced from Music Alley, as one way of bringing indie music to the attention of people who may otherwise not discover it.
Please support this campaign. As LabelLove says on its website:
[…] Our aim is to try and rally the music industry, both on the artist and the audience sides, and see if we can raise some money to see those affected through the tough times ahead.
You can support in these ways:
If you don't want to do any of those things, how about buying digital copies of some of those indie artists' music?
More details on the campaign in the Guardian's story, appended below.
(The Guardian's report is published here with permission via the Guardian News Feed plugin for WordPress.)
---
This article titled "Campaign launched to help labels affected by Sony warehouse fire" was written by Tim Jonze, for theguardian.com on Wednesday 10th August 2011 12.31 UTC
A campaign is underway to raise money for independent labels affected by a fire that destroyed the Pias distribution centre in Enfield on Monday night.
The blaze, which started during the London riots, destroyed the Sony warehouse holding the Pias inventory. The warehouse contained records from almost 200 indpendent labels, as well as singles and albums set for release by more established artists such as Arctic Monkeys and Charlie Simpson.
Now a campaign has been launched to help labels affected, with the LabelLove website set up to allows music fans to donate money to the cause. People can also email labellovebenefit@gmail.com to find out about other ways to help out. Dan Salter, one of the campaign organisers, said: "We've been amazingly inundated with offers of help and support on this idea, and we are going to concentrate on trying to organise a series of live events to help this cause. Based on the offers we've had already, this is looking likely."
The Twitter account @_label_love_ has been set up to keep followers updated with the latest news while the hashtag #labellove is being used by music fans to voice support. Musician Dan Le Sac used it to tweet: "I'd sell a kidney for independent music, without passionate people doing it for love, I would still be behind the counter of HMV. #labellove"
Sean Adams, who founded the website Drowned in Sound, has compiled a spreadsheet of the artists distributed by Pias. He aims to open this up to hackers in the hope they can build tools using the data to encourage fans to buy music on the labels affected. Adams said: "I imagine there are some life-changing labels, who've bravely put out records that have shaped our music scene, who may struggle over the coming weeks and months. The idea [to compile the spreadsheet] came because I couldn't find one place with links to all the labels' websites and I thought it'd be cool to look at all those amazing labels' catalogues, and perhaps link it with Last.fm to see which acts it recommends or to create a video jukebox or do something amazing with SoundCloud players."
theguardian.com/music will be posting updates on the situation and how it affects labels and artists over the coming days.
guardian.co.uk © Guardian News & Media Limited 2010
Published via the Guardian News Feed plugin for WordPress.