Tom Foremski (of Silicon Valley Watcher) and Oliver Starr (chief evangelist from Pearltrees) started the SF Curators Salon a few months back. It's an informal gathering of folks from the San Francisco Bay Area who are interested in content curation in all its various forms.
The July 27 meeting featured brief presentations from Christine McCaull, one of the organizers of TEDx San Francisco, and Ken E. Kaplan, who works on Intel's Free Press. Tom Abate from the San Francisco Chronicle was also scheduled to present but was unable to attend, so Foremski covered some of the Chronicle's curation activities in his absence.
Get this podcast: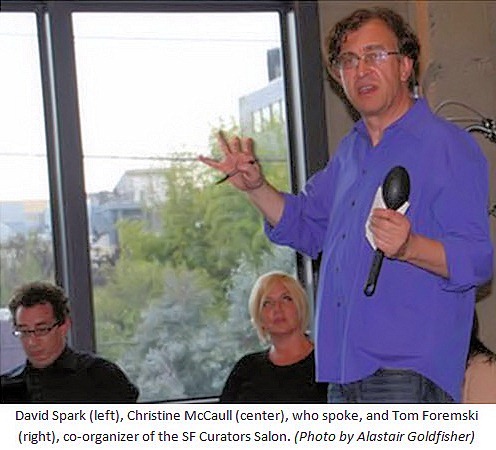 The recording was made on a Marantz PMD-620 digital recorder that Shel held in his hand during the presentation and subsequent discussions. The session was held at PeopleBrowsr's offices just next to the I-80 freeway. The audio file has been processed to ensure clarity, but there is still some buzz in the background. The file is edited lightly for length.
The SF Curators Salon Facebook Group is an open Group.
Connect with Tom Foremski on Twitter
Connect with Christine McCaull on Twitter
Connect with Ken Kaplan on Twitter

Share your comments or questions about this podcast, or suggestions for future shows, in the FIR FriendFeed Room. You can also email us at fircomments@gmail.com; call the Comment Line at +1 206 222 2803 (North America), +44 20 3239 9082 (Europe), or Skype: fircomments; comment at Twitter: twitter.com/FIR. You can email your comments, questions and suggestions as MP3 file attachments, if you wish (max. 3 minutes / 5Mb attachment, please!). We'll be happy to see how we can include your audio contribution in a show.
To receive all For Immediate Release podcasts including the weekly Hobson & Holtz Report, subscribe to the full RSS feed.
This FIR Speakers & Speeches is brought to you with Lawrence Ragan Communications, serving communicators worldwide for 35 years. Information: www.ragan.com.
(Cross-posted from For Immediate Release, Shel's and my podcast blog.)