I went to a conference in London in May organized by Adobe, the software firm. The biggest thing that struck me about it was how well organized it was from the social media and network connectivity points of view.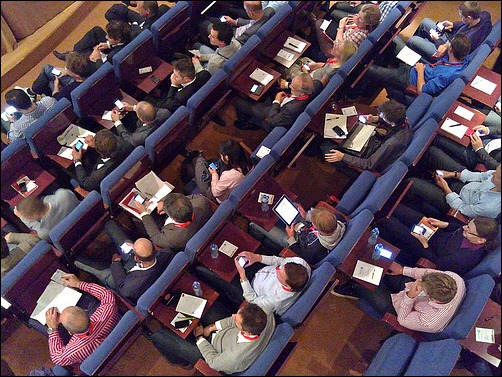 Adobe recognized that many people want to talk online about what they're experiencing at an event while they're at that event. So they made it easy by publishing on the conference website clear and helpful guidelines on connecting your comments and opinions on Twitter, for instance, with hashtags. They also provided detailed information on how to connect to the conference venue's wifi network, so you could easily get online in order to talk about the event.
Wouldn't it be something if every conference or event you went to had this kind of basic enabling infrastructure in place so people who wanted to get online this way could do so? Making it oh so easy for participants to not only talk about things as they see fit but also add additional value to the event by doing so?
Sadly, it's notable how bad most conferences are in this regard when you know the most common phrases you hear are "Is there a network connection?" and "What's the password?" Such questions are joined nowadays by either "Is there a hashtag for this event?" or "What's the hashtag?"
I can't imagine any conference organizer (or speaker) wanting to find online commentary about an event dominated by that kind of comment. Yet so many organizers either overlook or simply just don't think about the fact that the online connections from conference participants increasingly become essential elements of the overall conference experience for everyone, and provide the event organizer with valuable metrics.
A post on TNW Media brings this into sharp focus, reporting some best-practice thinking with regard to the overall concept of enabling people to engage with others online wherever they happen to be, and what conference organizers can gain from this approach.
TNW reports on how Samsung was able to identify over 375,000 tweets and 120,000 check-ins on geo-social apps like Foursquare at the SxSW festival in Austin, Texas, earlier this year. Such data enabled the electronics firm to learn a great deal about the people who talked online and what they think about Samsung, its products, competitors and more.
The real gems, though, in TNW's post are some terrific ideas by Jeffrey Harris of the Aspen Ideas Festival that look beyond the obvious – the hashtags, the wifi that's easy to connect to – to embrace a much bigger picture of overall engagement between organizer, speaker and conference-goer that involves multiple platforms like Tumblr pages and streaming live video.
But starting with that obvious, Harris offers a common-sense approach in describing the benefits of using event-specific hashtags and Foursquare check-ins:
[…] it encourages conference goers to communicate with each other, but it also allows his staff to sit back and watch the burgeoning trends that emerge from the conversation; if a speaker says something newsworthy, for instance, Harris will see a sudden flurry of tweets, and his team can focus on that particular session when they're deciding what speeches to highlight on the festival's website or its Tumblr page.
Harris also describes how he worked with Foursquare and developed an event page for the Aspen Ideas Festival to provide a check-in service for people to use regularly to get around campus.
[…] they helped us create a page and advertised that on their homepage as a newer destination for people to check out. For the festival, we have not just what's happening on campus, but what's happening in the town of Aspen this week. So with the Foursquare page we can tell them where tickets are available for different sessions, but we can also tell them how to find out information about things happening around town as well as on campus, both so the folks know we're here and also to use Foursquare as a way to advertise and connect with the community.
Some event organizers do offer links and connections with other things happening in the city where their event is taking place – IABC springs to mind and how they do that with their annual international conference.
There are also other ideas like developing apps for smartphones and other such mobile devices that offer conference participants an effective means of keeping connected to events and other people while on the move at an event venue where mobile devices are clearly the tool most people are going to use (just look at the photo above). Adobe had an app for iPhone and Android at their London conference, along with QR codes to make it easy for people to grab those apps.
Yet these are all examples of innovation that are still too rare at the average conference. It only needs open minds and thinking (and, let's be realistic, a capable budget) to making it happen and open the doors to enriched experiences for all.
[Photo above by Adriaan Bloem, used under Creative Commons license.]
Related posts: