Infographics are quite the rage at the moment. There is something quite compelling about a well-constructed visual piece of story-telling that helps you understand complex information quickly.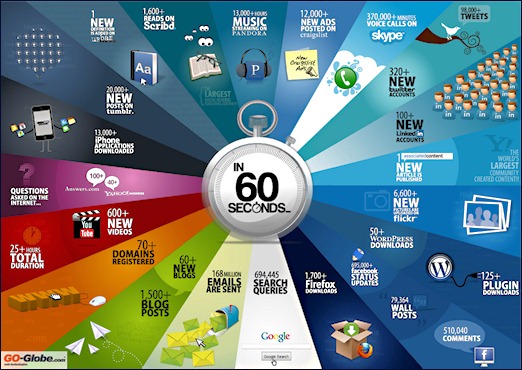 Here's one with a  difference – a "stats infographic" that is equally compelling, telling you what happens on the web in sixty seconds. Things like:
98,000 tweets
13,000 iPhone apps downloaded
Over 125 WordPress plugins downloaded
695,000 Facebook status updates
Almost 695,000 search queries
168,000,000 emails sent
100 new accounts created at LinkedIn
20,000 new posts on Tumblr, the up-and-coming microblogging platform
Even though no source for any of the info is cited, it's ideal for that PowerPoint deck to help you explain what's happening on the web. Mind-expanding stuff!
Nice work from Shanghai Web Designers. Via AdverBlog.