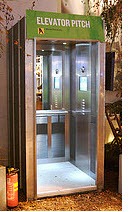 I spent a frustrating fifteen minutes today trawling around a company's website to try and find a succinct description of them. Googling them didn't help a bit – every description I did encounter around the web actually didn't say what they do in a way I can use.
Why is is that so many companies do a really terrible job at making available a short and clear description that, at a glance, lets you understand their business and makes it easy for you to repeat their description with a quick copy and paste and little editing or rewriting? It's as if everything you read was written by a committee and has a sales or marketing spin behind it. Oh wait… :)
I think companies need to better define themselves for the Twitter age. Among the many things they do or should do that makes it easy for anyone on the net to talk about them accurately, they ought to provide absolute clarity about who they are and what they do in a way that makes it easy for others to repeat or mash-up that message with accuracy and in the way that the organization wants. It's to their advantage to do that!
It's an evolution from what used to be known as the elevator pitch – but instead of 30 seconds to talk about your business, you've got 140 characters. Or less. And btw, this isn't about the twitpitch, an idea for pitching via Twitter originally floated a few years ago by Stowe Boyd. It's more fundamental as it's largely about how others describe you.
Here's a great example of what I mean – take a look at the "Who's Hiring in Tech?" sidebar on technology news aggregator site Techmeme.
Some great concise descriptions of companies. Not all of those concise descriptions work stand alone. But with some of them, you can add the short descriptions to any company-written text you find on their website, in Wikipedia or elsewhere.
Here's an example using LinkedIn from the Techmeme sidebar.
If I was writing about LinkedIn, I might describe them as a "business social networking site." But does that accurately describe the company and what they do or offer, and in a way that matches what the company itself says?
I'm largely out of luck at their website – there's nothing credibly succinct I can use. Just take a look at their about page. The only text there that I might use is this:
LinkedIn operates the world's largest professional network on the Internet with more than 100 million members in over 200 countries and territories.
I suppose I'd use that at a pinch. To me, though, it just doesn't gel: it's the kind of corporate-speak every company seems to use. Better luck with their Wikipedia entry which gives me the info to write this:
LinkedIn is a business-related social networking site founded in 2002.
Close to what I might have said based on what I think LinkedIn is about. But adding something short and emotive like they have on Techmeme, I might say this:
LinkedIn is a business-related social networking site founded in 2002 that connects talent with opportunity.
Getting better. And it's only 108 characters including spaces and the full stop!
And I love the Microsoft description:
Come as you are. Do what you love.
A whole lot better than what's on the 'About Microsoft' page on their website: it doesn't actually say what Microsoft is – you have to click around to find that. And it's better than their Wikipedia entry:
Microsoft Corporation is an American public multinational corporation headquartered in Redmond, Washington, USA that develops, manufactures, licenses, and supports a wide range of products and services predominantly related to computing through its various product divisions.
Too long-winded for me. No, I like this:
Microsoft: Come as you are. Do what you love.
I reckon that could work whether you're recruiting new employees or selling your products. A great focus and only 45 characters. And so retweetable!
How about your company? Do you have a credible and concise description I can use? In 140 characters or less?