For the past four months, I've been enjoying my time with a Dell Vostro V130 laptop computer as a participant in Dell's #tradesecrets marketing campaign for the machine that Dell ran during the first quarter of this year.
This Animoto video collage of some of the photos I've taken of the V130, along with the music, might give you a good sense of it and my overall positive thoughts about it.
In essence, the Vostro V130 is a delightful machine to use. My day-to-day computer is a Dell XPS desktop but when away from the office, one or two days a week, I carry a laptop (and sometimes, just a Dell Streak mini-tablet).
That laptop has usually been the V130 these past months.
Before I get to my "Yes, but…" moment, let me say that I do think it's a terrific machine, as I mentioned. And as I noted in my first post about it:
Robust and well made hardware; aluminium chassis, feels good and looks good.
Nice weight, this laptop won't give you arm ache just carrying it.
Lovely keyboard, good to the touch and to type on.
Excellent 13-inch widescreen, crisp and vibrant colours.
Powerful Intel Core i5 processor, this machine will let you comfortably do any typical task you expect to do in a business setting.
My machine comes with Windows 7 Professional and a Microsoft Arc Touch wireless mouse.
It also has something I would expect to see more in business laptops in the future – a slot for a SIM card so you can get online via the cellular network when there's no wifi or you're not plugged in via a wired connection.
Yet I experienced two major things that would give me pause when thinking about recommending a machine like this to friends and colleagues as their laptop for typical use in the workplace:
1. Battery life is just awful.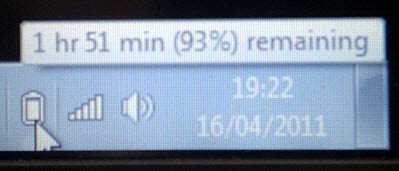 Every time I use the V130 with no mains power connected, just running on the battery, I'm lucky to get a couple of hours out of it from fully charged. And my usage is 'business typical': email, Word, Twitter, visiting websites, etc; nothing fancy like watching videos, playing video games or editing audio or images, activities that would likely use a lot of power.
If I set the power option in Windows 7 to 'extended battery life', I can manage a full three hours, perhaps three and a half hours – but that's typically with at least half that time not actually using the machine. In any case, who wants to use a computer that's set to turn the display off after 1 minutes and go into sleep mode after 3 if you don't touch any keys or move the mouse?
The first time I experienced this, I thought, ok, not much power capacity here, I'll buy an extended battery from Dell and get more time. But you can't do that! This machine's battery is part of it, ie, it's built in – there's no means of taking it out and plugging in another one to give you extended power capability! That's an astounding limitation in a portable business computer.
2. Some of Dell's own software interferes with the Windows 7 Aero interface.
This happens every time I use the V130 on battery power – the Windows 7 colour scheme changes from Windows Aero to the very basic capability due to a program that isn't compatible with Aero. Note this only happens when running the computer on battery power.
Fair enough (sort of) if that program is from a third-party software vendor, but it's not – it's Dell itself and a program called QuickSet, a tool for power management.
Mix the Windows 7 basic colour scheme with extended battery life power mode and you have a pretty miserable user experience with this laptop. So I kill the QuickSet process via the Windows Task Manager and run the V130 on battery power without it, re-enable Windows Aero… which hits power consumption even more. What a performance to go through!
Still, it's a nice machine. I love using it in spite of these two issues. My critiques aren't necessarily show-stoppers – you may not see them as the huge negatives that I do. Take a look at what many reviewers say.
But if I were to recommend this laptop to a friend or colleague, I'd most certainly make sure he or she understood these two issues I've outlined – especially the battery capacity limitation.
Related posts: