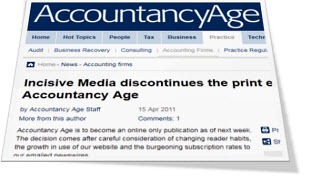 Another death knell for niche-interest print? The Guardian reports that the weekly  Accountancy Age magazine is about to become online only.
Last month, Computer Weekly said it was discontinuing print and would become online only. Reports said that title owner Reed Elsevier "sought to reshape RBI's [publisher] portfolio by significantly reducing costs and channelling investment into successful data services."
The web is a lifeline for niche publishing. Special-interest publications can re-invent themselves for changing market conditions and consumer behaviours, rather than just go belly up, at far less investment than print. They can embrace new platforms such as tablets – look at the successful example of Dennis Publishing's Evo magazine and its iPad edition: a success story in a competitive niche (motor industry).
Expect more such stories in a changing media landscape that continues to evolve rapidly.
(The Guardian's report is published here with permission via the Guardian News Feed plugin for WordPress.)
---
This article titled "Another magazine stops printing to go online" was written by Roy Greenslade, for theguardian.com on Friday 15th April 2011 12.49 UTC
The magazine march from print to web-only publication continues. The latest title to make the step is Accountancy Age.
From the week after next, the title – owned by Incisive Media – will become an online only publication. The last print edition will be published on 21 April.
According to a story on its website, the decision "has not been taken lightly". It "comes after careful consideration of changing reader habits, the growth in use of our website and the burgeoning subscription rates to our emailed newswires." It continues:
"The evidence is that our readers are increasingly seeking their news, analysis and features online and want it delivered to their inboxes."
Its journalistic team will remain intact and the magazine's owners believe that Accountancyage.com "has a bright future."
Source: Accountancy Age
guardian.co.uk © Guardian News & Media Limited 2010
Published via the Guardian News Feed plugin for WordPress.