The following is a guest post by David Murton, a professional writer and blogger with a particular interest in the open source Drupal platform. David has been helping companies build and maintain their online relationships with customers since 2006. He is affiliated with A Small Orange, a web hosting provider, linked to in the post. On a more personal note, David is an avid piano and accordion player, drawn especially to music of the classical and romantic periods.
Too many companies treat customer support as an afterthought – a safety net to keep unruly customers at bay, regardless of the results. Unfortunately, the results of maintaining a poorly trained or simply mismanaged customer support team can be disastrous: negative word-of-mouth advertising, lost sales, and fewer potential business partnerships, to name only a few. By employing thoughtful customer support strategies, you can:
Improve your company's image.
Attract many more customers.
Teach your customers how to properly use your products and services.
Receive fewer customer support inquiries in the future.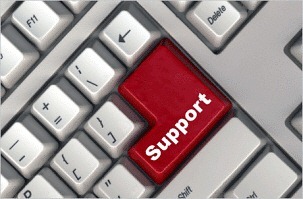 Customer Support and Your Image
To a large extent, the quality of your customer support defines your company's image. When a customer purchases a product or service from your organization, there may not be any human interaction at all. But when the customer has a problem with that purchase, they contact your customer support team, and human interaction begins. If your customer support team is unqualified, uninformed or simply unauthorized to correct the situation as presented, the customer sees this as a representation of your company as a whole. The ubiquity of the Internet allows for this type of negative representation to spread very quickly, and a single blog post detailing a poor experience with your support team could cost you thousands of sales.
A positive customer service experience can be relayed to other potential customers just as quickly, and it doesn't require an extraordinary effort – since so many companies fail to provide even an acceptable customer support experience. By giving your customer support team the knowledge, respect, and authorization necessary to correct the problems posed by customers, you can create an exceptional support experience.
The result? Customers who are happy when they hang up the phone, will buy your products or services in the future, and may even be compelled to share their positive experience – leading to even more sales.
What available support channels are there?
The most popular customer support channels include:
Email
Live Chat
Phone
Forums
FAQ
Most online companies offer, at the very least, some form of email support. This may include direct email addresses pertaining to specific company departments or issue categories, or embedded email forms in which customers use drop-down menus to narrow down their problem.
Support forums, though not as popular as email support, can lessen the load on your customer service team, especially if your company has a large customer community already. Apple Computer, for example, allows customers to choose between phone support, which may cost a fee outside of a product's warranty period, or their support forums, which are accessible for free. Customers can request help or help others, and the actual, paid support staff occasionally jumps in to solve a problem.
Live chat, which consists of the instant transfer of text-based messages between the customer and your support staff, allows for real-time problem solving. Companies offering live chat usually rely on comprehensive business hosting plans to ensure constant up-time and minimize dropped chats.
Most customers, however, prefer the high level of human interaction offered by phone support.
The Proper Way to Treat Your Customers
Simple: with respect, dignity and kindness. However, a few more specific tips can greatly enhance the customer support experience you offer:
Trick the customer into helping themselves. For example: A customer calls, and he insists that his computer monitor won't function no matter what he tries. If you ask him to confirm that it's plugged in to his computer, there's a fighting chance that he'll become enraged at the obviousness of your suggestion. Instead, explain that dirt and dust in the connection might have caused the problem, and that unplugging it, blowing it out and plugging it back in might help. The customer may realize that his monitor was indeed unplugged. This results in an instantly satisfied customer who wasn't forced to admit his mistake, and a call that lasted two minutes instead of twenty.
Assign the blame to yourself, not the customer. This gets tricky depending on your customer service model, and especially the level of authority assigned to your customer support reps. Whether it's true or not, simply saying "this is our fault" can significantly reduce the customer's anger, which is often necessary before the problem can be solved.
Correct the problem, even if it costs you money. If you offer a 90-day return policy and the customer calls back on the 91st day or even later, honour the policy anyway. You might even offer to pay for the shipping fees!. This might sound like a huge net loss initially, but the positive word-of-mouth advertising that it can generate will more than make up for any losses.
Social Media to the Rescue
Social media sites such as Facebook and Twitter can be great forums for providing customer service, and they're also where many individuals turn to voice their customer service stories, both good and bad. Search for your company's name at a few social media sites. You may be surprised to find unresolved complaints and potential customers who are sympathetic with the original poster.
This is where you can take action. Post a reply saying the following:
"I'm sorry to hear about your experience. Call us and we'll do everything we can to make this right."
This can lead to a satisfied customer, and a stronger image for your company when other social media users inevitably see your post.
Although it might not be practical for larger companies, smaller business can also use a social media site as one of their primary support methods. This is especially true for companies that cater mainly to casual Internet users who may only be comfortable with Facebook and similar sites.
Show Your Customers You Care Even Before They Contact You
The best way to do this is to offer a Frequently Asked Questions section. A high quality FAQ is:
Easily navigable.
Organized into clear, specific categories.
Written by individuals who thoroughly understand each topic.
Specific (i.e. "system requirements" consists of more than just an operating system).
Updated frequently to be as authoritative as the information available directly from your support reps.
Concise enough to not overwhelm your users with answers to questions that aren't actually asked very frequently.
Some information doesn't necessarily belong in your FAQ. For example, if your business has a physical office, its address and phone number should be listed in a contact page. A FAQ is not an all-encompassing document that contains every detail regarding your company.
Use Customer Service Complaints to Your Benefit
When you customer support department receives complaints, it can be disheartening. Instead of getting frustrated, use the information you receive as a model for change in your company. If half of the calls fielded by your support team relate to difficulty with your site's navigation, change the navigational structure. If a product you sell is frequently found to be faulty, redesign the product or simply stop selling it.