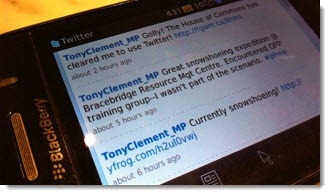 Politicians in Canada are embracers of social media, it seems, and now they're being actively encouraged to use social channels from within parliament.
According to a report by Journalism.co.uk, the Canadian House of Commons has issued MPs with Blackberrys and encouraged them to tweet and post messages on Facebook during their parliamentary work:
According to the Canadian Press newswire, about half of Canada's MPs are already avid social media users and others are setting up new accounts as elections near. It is expected that the move will improve public access to information and encourage debate.
That's an interesting stat the newswire quotes which equates to about 154 enthusiastic MPs. That number is slightly below what Canadian public affairs consultant Mark Blevis says it is in an analysis he's made of social media adoption by Canadian MPs.
Blevis created a pretty nifty video, embedded below, that summarizes his points on what's happening with social media in Canadian politics.
The video portrays a pretty dynamic and encouraging picture of what Canada's elected representatives are up to online.
Here in the UK, the picture's not quite as impressive from what I can tell: according to Tweetminster, 247 MPs have Twitter accounts. That's much less than half of the 650 MPs in the House of Commons. And I find no easy way to discover who's doing what with websites, blogs, Facebook, etc.
There's also a distinct lack of encouragement for British MPs to use social media tools within the House of Commons. Recent events like MP Nadhim Zahawi's musical tie in the Chamber don't help much, either, in demonstrating the credibility of social media (although it increased the MP's Twitter followers significantly and raised greater awareness of Beating Bowel Cancer, the charity he was supporting. A silver lining, in fact).
Still, much work to do.