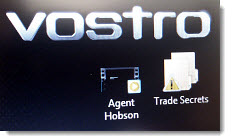 I can think of few better ways of spending part of Sunday than playing with a new tech toy. Which is precisely what I've done today with a new device that Dell have let me have as part of a programme to promote a new laptop under their Vostro model name.
The machine I have my hands on is the new Vostro V130 laptop, just launching in the UK, and a very nice piece of kit it is. Dell is positioning this business machine squarely at the small- to medium-business market, at what Dell calls 'on-the-go business professionals':
[…] Dell specifically designed the Vostro V130 with the needs and wants of entrepreneurs in mind, combing head-turning style with best of breed durability and security.
How will the laptop stack up against that aspiration? I'll take it for a ride, as it were, in the coming weeks and look at just that.
Here are some immediate and initial thoughts about the Vostro V130 that I recorded in this Qik video earlier today (shot, incidentally, with a Dell Streak).
To summarize the key points of what I say in the 7-minute video:
Robust and well made hardware; aluminium chassis, feels good and looks good.
Nice weight, this laptop won't give you arm ache just carrying it.
Lovely keyboard, good to the touch and to type on.
Excellent 13-inch widescreen, crisp and vibrant colours.
Powerful Intel Core i5 processor, this machine will let you comfortably do any typical task you expect to do in a business setting.
My machine comes with Windows 7 Professional and a Microsoft Arc Touch wireless mouse.
There's quite a bit more to it, of course, including some key features I didn't mention in the video such as a slot for a SIM card so you can use mobile broadband.
I'm not alone, though, in testing this machine. Far from it. Dell has asked a number of business people in the UK to test drive the V130 as part of a marketing programme called Trade Secrets (follow the #tradesecrets Twitter hashtag to track their commentary and opinion).
You see the two icons in the screenshot at the top of this page? One called 'Agent Hobson', the other 'Trade Secrets'? 'Agent Hobson' is a 2-minute video aimed at me by name that tells me about the programme in a pretty compelling way, taking a Mission Impossible/007 mashup approach. (Nice work, Ketchum Pleon.)
I'll have more to say about Trade Secrets and the influencer programme soon but you can see what it's about when you check Dell's Trade Secrets page on Facebook.