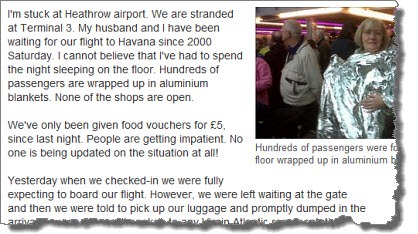 All this weekend, I've been experiencing an increasing sense of disbelief when watching TV news reports of the utter chaos in the UK transportation network as a consequence of the severe weather conditions the country has been enduring.
Last night, Heathrow airport saw hundreds of stranded passengers spending their second night in the airport terminals in pretty poor circumstances as the airport remained essentially closed, apart from a handful of departures, all weekend.
It's a little selfish perhaps, but I feel so thankful that I managed to get back to the UK from Switzerland late on Friday night: if I hadn't been able to, I'm convinced I w0uld still be in Basel this Monday morning with no idea when I'd be able to return to the UK. I'm pretty sure it was touch and go that my British Airways flight to Heathrow actually did go, over four hours late, instead of being cancelled given the reality of so many flight cancellations on that day and severe congestion at Heathrow with no stands for arriving flights for hours. We were very lucky: on our landing approach, the pilot announced no air traffic delays and we go straight to a stand with no waiting.
To be sure, much of Europe has been affected by the severe weather of the past week and more, with airports closed and roads in chaos everywhere. Yet it seems to me that, in the UK, we seem especially prone to experiencing absolute disaster and complete chaos no matter how much snow falls, whether it's an inch or two or a great deal more.
Seeing news reports of total and enduring chaos on the railways, buses, any form of public transportation, and on the roads generally, I really do despair. On Saturday morning, my wife and I ventured out in thick snow. It was clear that not a single road in our area appeared to have been gritted or treated with salt. Not even local motorways as this picture illustrates that my wife took from the car as we travelled gingerly on the A329M.
I read stories that we're not used to such weather in  the UK, we don't have the infrastructure in terms of resources and equipment to deal with this kind of climatic event, and/or local councils don't have the budget. Some or all of that may be true, yet is that it: keep calm and carry on? That's the response to this? Just accept all the delays and chaos as part of the winter landscape? Accept that temperatures of less than minus 10 Celsius result in airport closures in contrast to temps of minus 20 Celsius or more and metres of snow at some  airports in other countries which have no problems in continuing operating (see this BAA Facebook page that explains what they do about airport ice and de-icing planes at Heathrow)? Do we expect the same again next year? Is it simply that we just don't have a clue on how to cope?
I don't have answers; I wish I did. I wish I could say to my local council: go out and buy snow ploughs, grit every single road around the clock, do whatever it takes to keep things going. The same for airlines and airports and other parts of the public transportation system.
Where is the money coming from for such things? That's more a political question, I suspect.
Then there's buying Christmas presents online and delivery delays because of the weather. I'm in that boat – items for Christmas ordered from Amazon UK in early December have still not arrived. I'm not feeling especially optimistic that we'll see those before Christmas.
Meanwhile, I'm glad I bought a new snow shovel a few months ago: the best forward-looking investment I've made in years.
Related post: