Content Summary: Josh Bernoff and Ted Schadler, co-authors of the new book, Empowered, discuss how employee HEROes can drive customer service and satisfaction if their employers are willing to empower them. The book, a follow-up to Groundswell which Bernoff co-wrote with Charlene Li, is from Harvard Business Press and is available from Amazon US, Amazon Canada, and Amazon UK.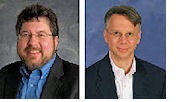 Josh Bernoff is the co-author of the BusinessWeek bestseller Groundswell, the "best book ever written on marketing and media" (Advertising Age), and is senior vice president, idea development, at Forrester Research.
Ted Schadler is a vice president and principal analyst in Forrester's IT Research Group. His work over 13 years at Forrester has focused on disruptive technologies and how senior decision-makers should harness them.
Get FIR Live:
Share your comments or questions about this show, or suggestions for future shows, in the FIR FriendFeed Room. You can also email us at fircomments@gmail.com; call the Comment Line at +1 206 222 2803 (North America), +44 20 8133 9844 (Europe), or Skype: fircomments; comment at Twitter: twitter.com/FIR.
You can email your comments, questions and suggestions as MP3 file attachments, if you wish (max. 3 minutes / 5Mb attachment, please!). We'll be happy to see how we can include your audio contribution in a show. To receive all For Immediate Release podcasts including the twice-weekly Hobson & Holtz Report, subscribe to the full RSS feed.
This FIR Live Call-In episode is brought to you with Lawrence Ragan Communications, serving communicators worldwide for 35 years. Information: www.ragan.com.
(Cross-posted from For Immediate Release, Shel's and my podcast blog.)