Spam: a scourge of contemporary life. I'm talking about the digital variety rather than the savoury meat product originating in a mists-of-time, analogue age.
Just about the worst kind of spam I see is that which purports to be relevant and representative of good media relations or blogger relations or personal outreach or whatever. In other words, the kind of stuff I get from PRs that bombards my Outlook inbox every day.
Take a look at this screenshot of an email I received the other day that was trapped by Outlook's junk mail filter and which I resurrected just for this post. I'm impressed with that aspect of Outlook: it's effective and if it regards something as junk, I don't argue.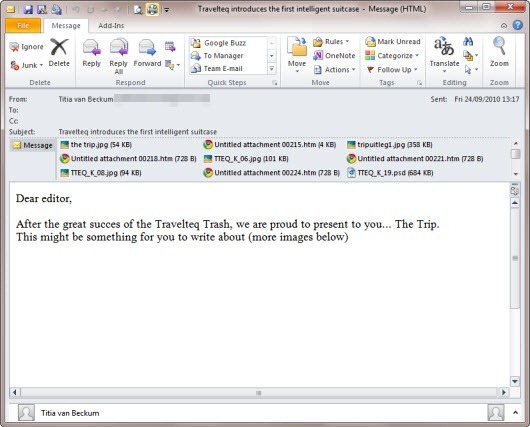 I've never heard from the sender before (well, Outlook's junk filter may have); the sender clearly has no idea about me ('Dear editor' is a clue), and packing the email to the gills with images and HTML files is a guarantee that sooner or later you and your domain will be on an anti-virus watch list.
Yet the worst thing about this crass and unimaginative missive is the sheer thoughtlessness of it. It's all about the sender and her client, nothing about the receiver or making some kind of connection. It's not even about running your text through a spell checker. And it's clearly lacking any common sense.
And that's probably the root of the problem. This is simply a mass mail-out that someone in the PR agency concerned thought was a good way to get the word out about their client: grab a mailing list, merge your text (minimal in this case), load up the stuff you want to thrust at your recipients and click 'send.'
And check out this one:
Classic PR spam.
I've been banging on about PR spam for years and how it's about individual and collective responsibility to stamp on such an insidious practice. It's one of the reasons why the PR profession is so looked down upon by many journalists and others.
So could an initiative announced by the Chartered Institute of Public Relations (CIPR) in the UK this week be a tipping point for common sense to kick in regarding how PRs reach out to people via email and other digital means?
The CIPR says that the Media Spamming Charter (PDF) provides guidance to CIPR members and the wider PR profession on standards of conduct when working with the media and bloggers.
The CIPR, the PRCA, the IRS and NUJ are united in their efforts to enhance professional standards. These best practice guidelines are designed as a point of reference for practitioners who work with journalists and bloggers. This document is a statement of best practice."
It stems partly from the "An Inconvenient PR Truth" awareness-raising campaign earlier this year.
An Inconvenient PR Truth is a passionate plea to the PR Industry to take action to tackle the issue of pollution caused by the sending of press releases to journalists, editors, bloggers and publishers for whom they are irrelevant. This issue if left to continue, could cause irreparable damage to the influence that the PR industry seeks to achieve.
While some people think that outreach behaviours surely are guided by common sense – and I have no disagreement at all with that view – it's clear that the influence of a professional body like the CIPR (as well as the others behind the charter: the Public Relations Consultants Association, the Investor Relations Society and the National Union of Journalists) can and should make a big difference.
Now I wonder how it'll all work in practice. And how the client will be brought on board. And seeing a body like the Public Relations Society of America embrace the concept. After all, most PR spam originates in the USA (see screenshots above).
Still, I'm optimistic: anything by the professional associations – surely the guardians of best practice – that shines a bright light on a very bad PR practice has to be a good thing.
Let's now return to normal programming.
Related post: