If you want to know how to seriously upset your customers and get lots of bad press in one easy move, look no further than Vodafone in the UK and what happened when the mobile operator rolled out a bespoke system software update this week to its customers who have the popular HTC Desire smartphone, as I do.
I did the upgrade when it was offered. It wasn't upgrading the phone's operating system to the new Android 2.2 version aka Froyo, as many people initially thought, that's already rolling out from phone manufacturer HTC.
No, it was apparently "system stability and performance improvements" and "operator feature enhancements" according to the information displayed on screen.
If you visit the Vodafone website, you'll find no information about this update. So without any other details to hand to tell you what all of that means, you take on an awful lot of trust when you go ahead and tap the 'OK' button. You assume that Vodafone isn't going to do anything that messes up your device, change any settings or, heaven forbid, install a bunch of apps on it without asking you first.
Well, guess what!
Here's what I've experienced on my Vodafone HTC Desire since the update:
Slow boot-up.
New splash screen at boot-up with the Vodafone logo.
The HTC boot-up tune is gone (which is probably a good thing)..
A bunch of Vodafone apps under the Vodafone 360 brand have been installed – none of which works (and none of which can be uninstalled).
No more audible notifications of SMS, email and Twitter messages.
Swype text-entry software stopped working: I had to uninstall and reinstall it to get it working again.
Switched the home page of my mobile browser to the Vodafone 360 log-in page.
The update added some new bookmarks, some of which I can understand have offended people, eg, dating websites (I just deleted them).
A lot of misplaced trust, it seems, judging from the howls of outrage posted by phone geeks in the Vodafone user forum. While many of the comments there are simply expressions of opinion, many other customers are genuinely aggrieved at what Vodafone has done. All the comments highlight the fact that many customers are very unhappy both with how Vodafone has gone about this update and the distinct lack of any effective communication from Vodafone about it other than a forum post after the fact.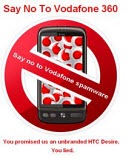 Gadget and mobile blogs have been alive with posts and comments, all critical of Vodafone. The mainstream media picked up on it with headlines like "Vodafone angers HTC Desire owners" in the Daily Telegraph. A Facebook page  "Say No To Vodafone 360 Spamware On The HTC Desire" was swiftly set up.
Now, Vodafone has suspended the update while it is "looking into customer reports into the possible impact of the software on device performance."
What's next? Well, maybe an interim update of some kind that fixes all these issues (but don't hold your breath). Then, the Android 2.2 update that I mentioned earlier.
If Vodafone's goal with this botched update was to open up a channel of selling new services (the Vodafone 360 deal) to customers, I can't imagine anyone would think they will now succeed, certainly not by pushing out "operator feature enhancements." I would imagine most people (me included) will be highly suspicious of anything from Vodafone on a mobile device unless there's detailed information explaining what it is and what it does before you click 'OK.' Oh, and asking your permission first whether you want it or not.
You might be surprised, Vodafone: if you ask first, many people will say 'yes.'
If they don't do that, I think many customers will 'root' their phones, especially if it gets easier and there are more online guides on how to do it. I've resisted that as I haven't found a truly compelling reason to do it as well as rooting your device will void the warranty. But if I had to go through this experience again, I may well choose that alternative.
All of this drama could so easily have been avoided with some common sense communication with customers beforehand.