For the past few years, I've posted about Gartner's hype cycles when the new series is published by the research firm, usually in mid July or thereabouts. The ones that typically interest me are emerging technologies and social software.
What are hype cycles? Wikipedia has a good explanation of the concept. Here's how to understand the hype cycle charts, the element that most people pay most attention to: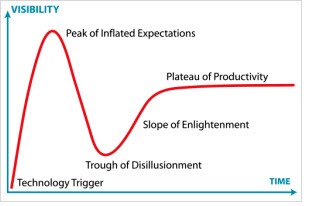 1. Technology Trigger – The first phase of a hype cycle is the "technology trigger" or breakthrough, product launch or other event that generates significant press and interest.
2. Peak of Inflated Expectations – In the next phase, a frenzy of publicity typically generates over-enthusiasm and unrealistic expectations. There may be some successful applications of a technology, but there are typically more failures.
3. Trough of Disillusionment – Technologies enter the "trough of disillusionment" because they fail to meet expectations and quickly become unfashionable. Consequently, the press usually abandons the topic and the technology.
4. Slope of Enlightenment – Although the press may have stopped covering the technology, some businesses continue through the "slope of enlightenment" and experiment to understand the benefits and practical application of the technology.
5. Plateau of Productivity – A technology reaches the "plateau of productivity" as the benefits of it become widely demonstrated and accepted. The technology becomes increasingly stable and evolves in second and third generations. The final height of the plateau varies according to whether the technology is broadly applicable or benefits only a niche market.
We're well past July this year and no hype cycles have appeared yet. I guess they must be imminent.
In the meantime, you might get a kick and a smile out of this alternate hype cycle, as I did, created by CIO.com senior editor Thomas Wailgum:
Don't worry about the trough of disillusionment, says Thomas, for he will enlighten you on what technologies are hot or not for 2010.
Can't see Thomas' tongues-in-cheeks matching much of Gartner's predictions when those eventually appear (heh! "BP Engineering"), but some of the ideas are pretty cool. "Twitter Uptime" and "Don't Be Evil" for starters.
Enjoy!
Related posts: