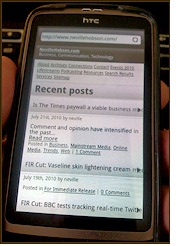 A few weeks ago, I installed a new WordPress plugin on this site that would enable visitors on mobile devices to find their experience here worthwhile and make it more likely they would stick around on their visit, perhaps engage  by leaving a comment, and maybe even return again.
The plugin is the WordPress Mobile Pack and it automatically knows a mobile device when it's accessing content here.
So instead of the web pages you see on a desktop or laptop screen, you'd see content displayed in a manner far more appropriate for the small screen of your typical mobile phone, like the example you see here – what this website looks like when I access it on my HTC Desire smartphone.
You just can't expect anyone with a screen this small to have any kind of pleasurable time on your website if what they get is a minute version of a standard web page with text looking so small that you can't read it even with a magnifying glass. I bet a lot of people do what I do in such situations: leave.
Plugins like the WordPress Mobile Pack give you a little bit of insight into how many visitors to your site arrive via a mobile device. Handy stats but hardly exciting. But if you sign up for a free analytics account at Percentmobile via your installed plugin and get an API code you add into your blog admin, then you'll see some metrics that are quite eye-opening.
I've just taken a look at mobile traffic on this blog over the past week and the richness of reporting Percentmobile gives me. Wow!
I always thought that iPhone users made up the biggest percentage of mobile visitors here, but not to the extent that nearly a quarter of all visits from mobiles are on an iPhone 3GS. And just look at the number two – the iPad at nearly 14% of all visits on mobile devices. Collectively, Apple devices account for nearly two-thirds of all mobile visits here.
Want to know where your mobile visitors are coming from? There's a stat for that!
Such detail can be very useful in understanding what are the popular devices people use to interact with your content. It may (should) have an influence on how you present your content on the web.
There's no doubt that more people are spending more time on the web via a mobile device of some sort. Not just reading website content but using increasingly-indispensible services like Foursquare, Facebook and Twitter. And mobile devices are certainly getting smarter, focusing far more on what you can do with it as a mobile access device than simply making and receiving phone calls. Look ahead to things like mobile CMS.
Among the many reports and forecasts out there about mobile web trends, this view from Morgan Stanley, the financial services firm, last December  – contained in their Mobile Internet Report – expresses things succinctly:
Mobile ramping faster than desktop internet did and will be bigger than most think – 5 trends converging (3G + social networking + video + VOIP + impressive mobile devices)
Regarding pace of change, we believe more users will likely connect to the internet via mobile devices than desktop PCs within 5 years
Enabling your website as a mobile platform is very easy if you use WordPress either as a blog or as a content management system.
What are you waiting for?
Related posts: