I've been watching with interest, and some dismay, as a real kerfuffle has broken out in the WordPress community over the past few days surrounding the matter of copyright.
At issue is interpretation of the GNU Public License (GPL), the "copyleft" license under whose terms WordPress software is released, how developers of premium themes offer their product, and also honouring the GPL.
Among the many posts that have appeared with commentary and opinion on the issue, The Next Web summarizes the situation nicely:
[…WordPress founder Matt] Mullenweg called out developers of "premium" themes for WordPress (the ones you have to pay for) that are not released under the GPL as 'evil'. WordPress itself is released under GPLv2, and Mullenweg feels that the products developed on top of WordPress (such as those premium themes) need to be GPL as well. To Mullenweg, if you build off of free software, and depend on it, to license them under other means is a breach of ethics.

[Premium theme developer Chris] Pearson disagrees with Mullenweg, and has been having a war of words over Twitter for the past few hours to reinforce his points.  In Pearson's logic, he should be able to license his own work in whatever manner he sees fit, regardless of the platform on which it is built. However, the GPL has a specific clause (according to the Mullenweg interview) that states that anything built on a GPL licensed platform must also be under GPL licensing.
As you can imagine, supporters and detractors of both sides have been tweeting their opinions. As far as I can tell, there's no dominant view among the thousands of tweets on what is right about GPL in this case.
A number of knowledgeable WordPress developers have posted some well thought-out commentaries on the issue, notably Drew Blas, David G. Larson and Rob Diana.
It looks like only some kind of legal involvement – ranging from the benign clarity of meaning to the aggressive filing of a lawsuit – will bring some light on interpreting the GPL.
But it seems to me this goes beyond just legal definitions of copyright. Isn't it about doing what's right in a community that's founded on values of freedom of expression and open sharing of intellectual property to the benefit of many?
Does Chris Pearson's business model, and that of other premium theme developers who don't use the GPL, drive a huge wedge into the heart of everyone in the WordPress community who do adhere to the principles of the GPL?
I asked Chris Pearson via Twitter (and a little impolitely) what he thought of that. He said he wasn't doing that. My reply that he should therefore support the GPL didn't get a further response.
I use Chris' Thesis theme in this blog (I bought a developer license in 2008). I like it a lot. I didn't really pay much attention to GPL or any other kind of licensing until this all blew up.
Do I ditch Thesis? That question has crossed my mind. I really hope a smooth resolution will result from this kerfuffle, and soon, that will help me make up my mind.
Maybe a legal route is the only way to get that.
[Update July 18, 10:15pm:] The kerfuffle continues although some deeper thought is emerging in some blog posts. I especially like Why WordPress Themes are Derivative of WordPress by Mark Jaquith, one of the original WordPress developers, which to my mind presents the most comprehensive and credible assessment of this situation so far.
I've decided that I will move away from Thesis which I will do as soon as I've settled on an alternative theme that supports GPL and supports the open principles of the broad WordPress community. I'm experimenting with alternatives on my Sandb0x blog which I've resurrected again for this purpose.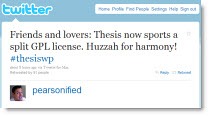 [Update July 23, 7:15am:] Chris Pearson has now decided to embrace the GPL and make Thesis part compliant with its license, sufficiently enough to satisfy Matt Mullenweg.
I say 'part compliant' because Thesis will now have two license conditions – one part that is the GPL and which covers WordPress' PHP code that may be incorporated into the Thesis theme framework; the other that is proprietary and covers things like images, cascading style sheets and JavaScripts.
Pearson links to the new terms of service; these are the relevant new texts:
2. Intellectual Property License

Thesis General PHP License

The PHP code portions of Thesis are subject to the GNU General Public License, version 2. All images, cascading style sheets, and JavaScript elements are released under the Thesis Proprietary Use License below.

Thesis Proprietary Use License

The Thesis Proprietary Use License is a GPL compatible license that applies only to the images, cascading style sheets, and JavaScript files contained in Thesis. These elements are the copyrighted intellectual property of DIYthemes and cannot be redistributed or used in any fashion other than as provided in this Agreement.
This is good news although I wonder if it actually does resolve the legal questions and doubts on copyright that have arisen due to this kerfuffle, never mind the community issues.
One post I recommend reading for its deep perspective on the overall situation is I Create, Distribute & Disseminate Cracked Software by Andy Beard. Make a cup of tea or coffee, draw up your chair and settle down for a good read. That includes the comments.
For me, I've made my decision to switch from Thesis so I will be ploughing a new furrow, as it were, with a new theme very soon.