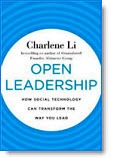 Open Leadership: How Social Technology Can Transform the Way You Lead is the new book by Charlene Li, founder of Altimeter Group and co-author of Groundswell.
FIR co-host Shel Holtz and TWI Surveys president Ryan Williams set out to produce a short review of Charlene's book, but the conversation turned into a longer discussion of leadership. Given that Ryan earned his master's degree in leadership, the review explores various leadership theories and how Charlene has applied them in the book.
Get this podcast:
Open Leadership, by Charlene Li
Publisher: Jossey-Bass (a Wiley imprint)
Hardcover: 311 pages
Published May 2010
ISBN-10:0470597267
ISBN-13: 978-0470597262
Purchase at Amazon US, Amazon Canada, or Amazon UK.

Share your comments or questions about this podcast, or suggestions for future shows, in the FIR FriendFeed Room. You can also email us at fircomments@gmail.com; call the Comment Line at +1 206 222 2803 (North America), +44 20 8133 9844 (Europe), or Skype: fircomments; comment at Twitter: twitter.com/FIR. You can email your comments, questions and suggestions as MP3 file attachments, if you wish (max. 3 minutes / 5Mb attachment, please!). We'll be happy to see how we can include your audio contribution in a show.
To receive all For Immediate Release podcasts including the weekly Hobson & Holtz Report, subscribe to the full RSS feed.
This FIR Review is brought to you with Lawrence Ragan Communications, serving communicators worldwide for 35 years. Information: www.ragan.com.
(Cross-posted from For Immediate Release, Shel's and my podcast blog.)