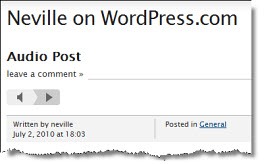 A new feature for users of WordPress.com, the hosted WordPress blog service, was launched this week called Post By Voice – you phone in your blog post rather than type it.
To use it, you enable the feature in your WordPress.com blog which generates a secret code. Then, you call a US phone number, enter the code, record your message – which can be up to an hour – and hang up.
After a short time, your recording appears on your blog as a blog post, as the screenshot shows of the audio post I did on my WordPress.com blog.
I like it and can see how it may appeal to some WordPress.com users. It's easy to set up, requires no configuration work, and it's simple to use. Likely, therefore, to attract users wanting to try it out. The US phone number may put off people outside the US but it works with Skype so at least you can minimize your phone bill (if you have the paid-for SkypeOut service).
WordPress Post By Voice is an experiment, says WordPress founder Matt Mullenweg.
[…] We're making it free and allowing recording lengths up to sixty minutes, but that limit may go down without a paid upgrade in the future. Mostly we're just curious to see how people use this.
Indeed, I wonder how people will use this. While it is simple to use as I mentioned, it does have some major limitations in its current offering.
As you can see from my audio post (and in the screenshot above), it posts with the generic title 'Audio post.' I wonder what would happen with URL conflicts if you did more than one in a single day. Also, you don't have a chance to add any text to the post before it's published, nor set a category or tag,  although maybe that's something that would miss the point of phoning in your post.
It's a pretty crowded space with quite a few competitive offerings I've tried (and still use in some cases) that do provide more features than this WordPress service:
Cinch from BlogTalk Radio. Call in to a US phone number. Launched last year.
Audioboo. Undoubtedly the coolest audio-blogging service from an iPhone. Simplicity itself to record and publish your audios with the free iPhone app (an app for Android phones, too) as well as from the website itself. The company is also experimenting with recording from normal phones with their Phoneboo service.
ipadio. While this service also has apps for iPhone and Android, its strength (on an almost industrial level) is the breadth and depth of what you can develop with the service – much more than purely an individual phoning in a commentary for recording. Group recordings, radio station-like channels, and much more.
There are others, too, but these three are primary services I've tried and which have now developed robust user numbers and strong user communities. All are free for individual use.
Post By Voice is powered by the Twilio API. It's currently available only on the WordPress.com hosted service; no information on if or when it might be available (as a plug-in?) for WordPress self-hosted blogs like this one.
Still, WordPress' offering has only just entered the market and, as Mullenweg says, they're curious to see how people use it – and he has some ideas himself – so expect the service to evolve in the coming months.
Related posts: