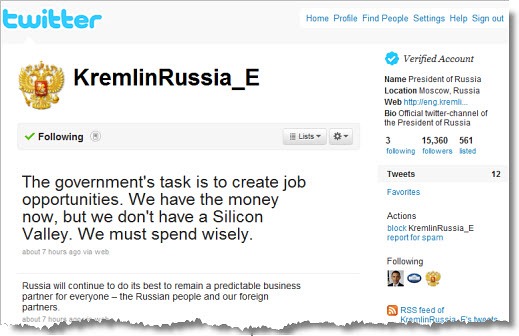 The Russian government has started a presence on Twitter in the form of two accounts under the name of the 'President of Russia,' one in Russian and one in English.
Russian President Dmitry Medvedev tweeted his first thoughts yesterday in the type of greeting message often seen by people starting out on Twitter:
Hello everyone! I'm on Twitter, and this is my first tweet.
Subsequent English-language tweets have been somewhat bland and pretty safe (eg, "Russia will continue to do its best to remain a predictable business partner for everyone"), hopefully reflecting the tweeter's getting a sense of using the tool.
"The tweeter" means the editorial team behind the two accounts, certainly not the Russian president himself. That's not unlike the Twitter account of US president Barack Obama: he's not the tweeter either.
It's interesting to note who the Russian president's accounts are following -  the English-language account follows just three others at the moment: Barack Obama, The White House and the Kremlin Russian-language account. And nice to see the Americans reciprocating the follow as well as re-tweeting Medvedev's first tweet. The new super-power diplomacy!
Medvedev is the most high-profile world leader using Twitter recently, joining over a dozen other heads of state on the micro-blogging social network including erstwhile political peers like Hugo Chavez of Venezuela.
One world leader on Twitter who has just become not a world leader is Kevin Rudd, the now-ex prime minister of Australia from today, who joined Twitter in 2008. I wonder what he'll do with the name of his Twitter handle: 'kevinruddpm.'