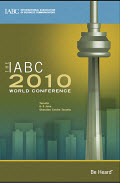 The IABC 2010 World Conference takes place in Toronto, Canada, this week, where an expected 1,400 communicators from around the world gather for four days of listening and learning.
Pre-conference events started yesterday – including, for the first time at an IABC event, an unconference session – and the actual conference runs until June 9.
The annual conference is a terrific event, a distinct highlight on any communicator's professional development calendar. I remember the 2009 conference that I took part in as a valuable investment of my time. And a huge amount of fun.
Luckily, tech tools available means we can follow along (and contribute if we like) with some of the events via a variety of channels, notably:
In Session, the official conference blog, with great content including interviews (podcasts) with speakers and others
2010 also marks the 40th anniversary year of IABC's foundation. I've been a member for just over half of that time and haven't regretted a single instant.
"How well do you know IABC?" was an informal quiz for members recently. The 10 questions are posted publicly online if you want to check your own knowledge. The answers are there, too.
In the current issue of CW magazine, executive editor Natasha Nicholson pays tribute to IABC's history, with a terrific conclusion:
[…] To continuously share that brilliant glimmer of light, to help others prevail over personal and professional hardships, to touch so many lives for 40 years—this is a true achievement for which we can all be proud.
Yes, happy birthday, IABC.