The second Dell B2B Social Media Huddle (hashtag: #dellb2b) took place at Microsoft in London on May 25, 2010. The aim of the one-day event was to bring together senior in-house communications and marketing professionals to exchange and share experiences on business-to-business social media for mutual benefit.
Each of the presentations, and some of the unconference sessions, were live-broadcast via UStream (see the video recordings) and audio-recorded for FIR Speakers & Speeches podcasts.
In this FIR Speakers & Speeches podcast, social technologist and serial entrepreneur Benjamin Ellis presented the business case for social media and the real ROI.
While listening to the audio, which includes a post-presentation Q&A discussion, you can follow the presentation itself with the PowerPoint deck embedded below (or at Slideshare).
Get this podcast:
About the Dell B2B Presenter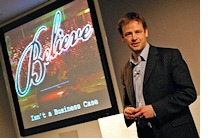 Social technologist and serial entrepreneur Benjamin Ellis has worked in the online world since the mid 1980s. He has worked with companies including Cisco Systems, Juniper Networks in Silicon Valley, and on projects with Microsoft, IBM and Motorola.
After more than two decades working at the leading edge of technology, Benjamin is still passionate about what it can achieve, particularly at the intersections between people, communication and software.
He is mainly known for his roles at Redcatco (blog) and SocialOptic (blog), and his support for start-ups and growing UK digital businesses – predominately though the Digital Mission with Chinwag and the UKTI.
Twitter: @BenjaminEllis.

Share your comments or questions about this podcast, or suggestions for future shows, in the FIR FriendFeed Room. You can also email us at fircomments@gmail.com; call the Comment Line at +1 206 222 2803 (North America), +44 20 8133 9844 (Europe), or Skype: fircomments; comment at Twitter: twitter.com/FIR. You can email your comments, questions and suggestions as MP3 file attachments, if you wish (max. 3 minutes / 5Mb attachment, please!). We'll be happy to see how we can include your audio contribution in a show.
To receive all For Immediate Release podcasts including the weekly Hobson & Holtz Report, subscribe to the full RSS feed.
This FIR Speakers & Speeches is brought to you with Lawrence Ragan Communications, serving communicators worldwide for 35 years. Information: www.ragan.com.
(Cross-posted from For Immediate Release, Shel's and my podcast blog.)