The mainstream media has been full of photos of the ash cloud from the Iceland volcano eruption that's the cause of a complete shutdown of incoming and outgoing flights in the UK – and now nearly 20 European countries – since last Thursday.
Here's one that I think epitomizes the scale of this natural phenomenon possible more majestically than other pics. Quite a dramatic photo, isn't it? (It was posted to Twitpic by burritojustice who says "via an Icelandic friend of a German friend.")
So there have now been four days of no aircraft movement in much of Europe: no commercial airline flights in to any airport, and no flights out, to anywhere. Hundreds of thousands of people are stranded in a situation that is very much global, either stuck in Europe awaiting to leave, or stuck somewhere else in the world waiting to get back here.
It's a living nightmare, one that has no known end.
It's affected me, too, although nowhere nearly as badly as people who are in the process of their travel. I haven't started my trip yet and now won't be making that trip at all.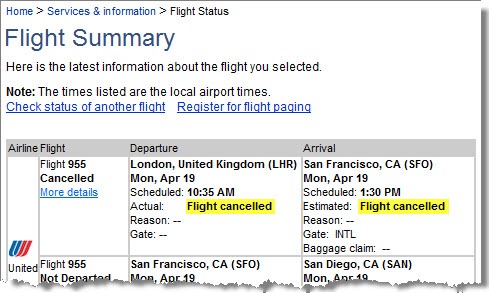 I was due to leave the UK on Monday morning for San Francisco and then to San Mateo to take part in NewComm Forum 2010, but my flight was cancelled this morning by United Airlines. I was due to deliver the closing keynote at the conference on Friday. There is also a board meeting of the SNCR of which I'm a founding fellow and board member, on Tuesday. Plus, I'd planned to record a live episode of FIR with Shel on Thursday.
I won't be there now to take part in any of those things, more's the pity.
Still, the conference will happen and will be a terrific event. (If you're in the US and have been thinking about going, do go: take advantage of the price discounts.)
I'm a bit philosophical about not making it to California this time. I wasn't too concerned about going to the US; its was whether we'd make it back or not (my wife was coming with me) without being stuck for days or even weeks, that was the major worry. Mind you, I now won't be able to visit this store to get one of these (about which I suspect my wife is very philosophical).
Hopefully, the travel situation will improve very soon. Pressure is mounting from airlines and others to relax the severe restrictions, although the ash cloud prognosis is not good for the UK and parts of northern continental Europe for much of the coming week.
Naturally, the Iceland volcano jokes have started flying about already. Here's just one:
Apparently this a communication problem, the message from money-strapped Europe had letter missing, it should have read "send us your CASH"
See also:
Plus: