There's simply no question that the hottest news today, this Easter weekend, is the launch of Apple's iPad, the device that has captured global attention like nothing else.
The hype is incredible. In fact, if you were to wonder where on the hype cycle the iPad might appear on launch day today, I reckon it's right at the peak of inflated expectations.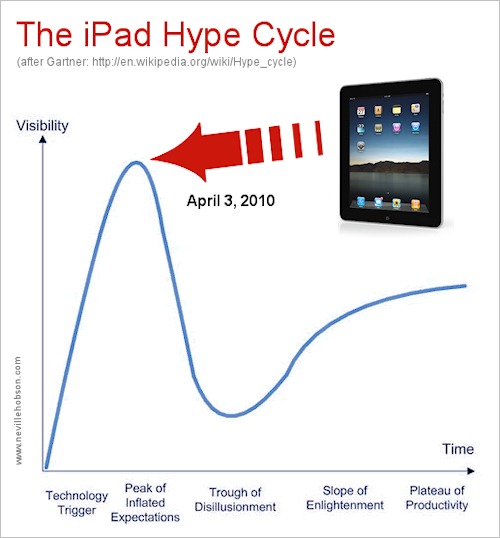 Still, among all the passionate opinion for and against the iPad, plus the glowing reviews, lists of apps and countless tweets, there's this sober business assessment from the Financial Times of the device:
At least 200,000 US residents will get their hands on Apple's new iPad on Saturday, convinced that, without ever having held one, the mouseless computer is right for them.

Meanwhile, a much bigger group, made up of Apple's investors, is already sure it will like the new device even more.

Spurred in part by iPad anticipation, shareholder enthusiasm has more than doubled Apple's market capitalisation in the past year, driving it past Google and Walmart. At $214bn, Apple is worth more than every US company but ExxonMobile and Microsoft.

Apple is trading at 23 times its profit from the past 12 months, which does not include iPad sales – higher than most companies, certainly, but well below Google's price-to-earnings ratio of 28.

All but six of the 32 analysts surveyed by Thomson/First Call rate Apple "buy" or "strong buy" and many have the stock as their top pick in technology, though they differ on how well the iPad will fare.
Full story at FT.com: Investors await iPad's cliffhanger launch
I guess a major key to long-term success for Apple, and all those predictions on how many units Apple will shift in the coming year or two, is how quickly the iPad scoots out of the trough of disillusionment – inevitably, that's where it will end up at some point post launch – and onto the slope of enlightenment.
Anyone's guess.
(Hat tip to Bernie Goldbach for tweeting about the FT report.)
Related post: