Getting hold of episodes of the For Immediate Release (FIR) podcasts to listen to on your mobile device whenever and wherever you want to is pretty easy.
The two most most popular ways to do this are subscribing via iTunes – a prime choice especially if you have an iPhone, iPod or iPod Touch – or subscribing via one or more of the RSS feeds on the FIR website.
In either case, you get the MP3 file on your computer which you then either synchronize to your mobile device with iTunes or other program that let's you do that (Winamp is one), or manually copy the file to it.
If you have an iPhone, an iPod Touch or a device running the Android OS, there's now an even easier way to get your podcast episodes with the new FIR app, now available in the iTunes App Store and the Android Market. There's currently no cost – the app is free to download and use.
The FIR app presents the five distinct FIR podcasts – The Hobson & Holtz Report, FIR Cuts, FIR Interviews, FIR Book Reviews and FIR Speakers & Speeches – organized into categories that make it very easy to find just the content you want all in one place on your mobile device. The default category when you start is 'Most Recent,' a perfect way of auto-organizing content for most people.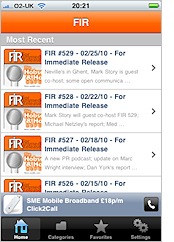 Categories bring some essential organization to your FIR collection on your mobile device, making it simple to select particular content you want.
You might notice one podcast not included – FIR Live on BlogTalk Radio, the live show we do once a month or so. That's because recordings of those live shows are included in the Hobson & Holtz Report category.
For the iPhone, etc, you can find the FIR app in the App Store. But the easiest way to find, download and install it is on your iPhone or iPod Touch:
1. Load the App Store on your device.
2. Tap the Search button and type FIR
3. The FIR app should be the first result you get – it was when I installed it yesterday – as the screenshot shows.
4. Tap the listing, tap the word 'free' and then 'install.'
There you have it – the FIR app installed on your device, ready to go!
The FIR app for iPhone and Android was created with iSites.us, a new app creation service launched in January by California startup GenWi. Just $25 and we have an app. A brilliant service.
Creating a mobile experience has never been easier nor cheaper.
We're thrilled with our first app creation and hope you find it useful and an enjoyable experience. Do let us know what you think. If you have any suggestions for improvement, we want to hear that, too.
(Cross-posted from For Immediate Release, Shel's and my podcast blog.)