MediaFunnel is a web-based platform for managing team contributions to an organization's social media output. Initially developed for teams contributing content to branded Twitter accounts, it is expanding into Facebook and other social media channels.
In this FIR Interview, co-host Shel Holtz speaks with one of the platform's co-founders and its business development adviser about the potential uses of the platform and how it works.
Get this podcast:
About our Conversation Partners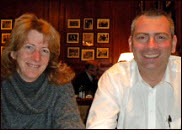 Andreas Wilkens is the founder and Managing Partner of Companity Group. Companity Group specializes in SaaS software development, IT outsourcing and consulting as well as VPN solutions
Michele Dundas Macpherson is Managing Partner of Macpherson & Associates, a firm that provides strategic positioning, fundraising and general management for clients in retail, entertainment, self-serve kiosks, technology and social media.  With over 12 years of general management consulting and venture capital experience, she has been instrumental in defining and implementing strategy for dozens of clients. Previous, she was Vice President of Entertainment for NCR Corporation, where she served as the general manager of the retail consumer business operating more than 2,000 DVD/media rental kiosks across North America.

Share your comments or questions about this podcast, or suggestions for future interviews, in the FIR FriendFeed Room. You can also email us at fircomments@gmail.com; call the Comment Line at +1 206 222 2803 (North America), +44 20 8133 9844 (Europe), or Skype: fircomments; comment at Twitter: twitter.com/FIR or at Jaiku: fir.jaiku.com. You can email your comments, questions and suggestions as MP3 file attachments, if you wish (max. 3 minutes / 5Mb attachment, please!). We'll be happy to see how we can include your audio contribution in a show.
To receive all For Immediate Release podcasts including the twice-weekly Hobson & Holtz Report, subscribe to the full RSS feed.
This FIR Interview is brought to you with Lawrence Ragan Communications, serving communicators worldwide for 35 years. Information: www.ragan.com.
Podsafe music – On A Podcast Instrumental Mix (MP3, 5Mb) by Cruisebox.
(Cross-posted from For Immediate Release, Shel's and my podcast blog.)