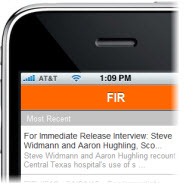 When I heard about AppMakr last week, a website that lets you create your own iPhone app for $199, I thought, wow! This is getting very affordable – anyone can now create an iPhone app in literally a few clicks, at a relatively low cost.
But then I heard about iSites – a website where you can create an iPhone app for just $25. I thought, wow x 2!
Imagine: with iSites, you can create an iPhone app from just about any content you have an RSS feed for, that's custom-made by you from filling in  a few fields and choosing colours, etc, with your own branding if you wish from artwork you upload during the creation process. The iSites blog has some great tips and advice to help you create your app.
And that's not all: once you've created your app, iSites vets it; if they approve it, they will then submit it to Apple for approval and subsequent inclusion in the iTunes App Store.
All for $25. And the whole process could be as quick as a few days, iSites say on their website.
So, as I mentioned briefly in FIR #519 last Thursday,  I created an iPhone app for FIR, the podcast I co-host twice a week with my friend Shel Holtz. Actually, the app will give you access to all the podcasts that Shel and I do, all six of them under the FIR brand. Terrific value for money with our free app!
The trouble is, I'm not sure when we'll see the app. Creating your own app for $25 is a pretty compelling proposition, a fact which I'm one of only a large many to realize. The closest I am at the moment to seeing what the app might look like is the design mock-up on iSites (if you click on the image snip above, you see the whole thing).
iSites has been overwhelmed, in fact, with the website painfully slow and not accessible at all from time to time.
An email yesterday from the company gives a clear indicator of just how popular their new service is:
[…] Currently we have been inundated with new app requests, and that requires us to carefully plan how we proceed to give Apple your new apps. […] we have designed a batching system that will forward apps gradually and maintain great quality control. We anticipate releasing 50 – 75 quality reviewed apps each day. In general, the order in which the app was submitted will determine which batch your app is placed.
So a flood of new apps is heading for the App Store approval process. I hope Apple has geared up for that.
But what a terrific service concept this is. DIY iPhone apps that are very easy to create at an affordable cost. Imagine the possibilities for anyone, personal or business. And not only iPhone – iSites say an app you create for the iPhone will also be converted by iSites for Android (think Google Nexus One) in February.
I'm patiently awaiting the next step which I hope will be Apple's approval and the FIR app's availability in the App Store.
Stay tuned, as it were.