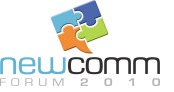 The 6th annual New Communications Forum conference takes place in San Mateo, California, USA, from April 20-23.
Event organizer Jen McClure and the organizing team have created a superb framework for learning under the theme "The Social Web: Redefining Business."
Here's what you'll get:
I'm speaking at this event, delivering the closing keynote on the final day.
Here's the schedule at a glance where you can see outlines of all presentations, sessions and workshops on each day. More details in the event brochure (PDF).
Linked to NewCommForum is NewComm Collaborative, a new online membership community and collaborative media portal that officially launches today. I plan to post more about this soon (I'm a member); meanwhile, read Jen's announcement post and explore the website to see if it's a community you'd like to be part of (see who's already in that community).
Being part of this year's NewCommForum has a special meaning for me as I was a speaker at the first New Communications Forum in 2005 (and in 2006). Those were the heady pioneering days when everyone started discovering blogs and podcasts – the extent of social media at the time – and everyone was trying to figure out this new social media world from a business perspective.
It seems to me that, other than scale, not much has changed in five years. I don't say that facetiously but rather recognizing the huge growth in development of social media – it's now mainstream globally in terms of awareness – the myriad tools, channels and online places that dwarf what was here five years ago, and the parallel desire for, well, figuring it all out.
The New Communications Forum 2010 will give you a terrific opportunity to get at least some answers to your many questions.
New Communications Forum 2010, April 20-23, 2010. Big savings for early registration before March 12.