One mobile device that ought to be added to any list of gadgets that epitomizes the Naughties (and there are lots of lists) is the portable satellite navigation device, or sat nav for short.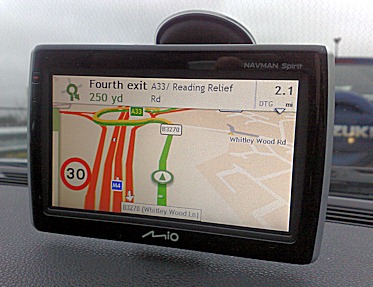 I first used a portable sat nav in 2005 with a rental car in Amsterdam, then bought my own in 2007 and, yesterday, purchased a new device (the one you see here, attached to my car windscreen), something I've been umming and aahing about for weeks if not months.
My experience to date with sat navs has been exclusively with TomTom, a Netherlands-based brand synonymous with satellite navigation and portability, and with a strong reputation for high quality and leading-edge products.
The model I've owned for the past near three years is a TomTom  710 Go, a device that's served me well but getting a bit long in the tooth, as it were, and really needing a maps upgrade.
I didn't buy a TomTom, though, but instead a Navman Spirit 500 Deluxe Traffic from Taiwan company Mio. I bought it at my local Halfords in their New Year sale for less than half the UK list price.
My reasons for buying this relatively unknown brand – I've heard of Navman but not Mio – are quite varied, including my confusion with the huge range of sat nav models, configurations and pricing on the market from TomTom, Garmin, Mio, Navigon, Sony, Snooper and others.
I also flirted with the TomTom iPhone kit especially as good friend Nicky Wake has one which she raves about. But I decided I didn't want sat nav on that device for the car nor as part of any phone – increasingly, I'm not using a phone in the car at all, not even with the hands-free kit (too dangerous, imo) unless fully stationary for a while in a traffic jam (lots of those these days).
The Navman unit appealed for reasons that included the very keen price, maps for the UK and the whole of western Europe, 4.7-inch widescreen format, charger for home or office as well as for the car, and the overall look and feel as well as just wanting a bit of a change.
It's at times like this when you want to find out what others' experiences have been. The Halfords website includes lots of positive customer testimonials for the Navman product (as it also does for others brands notably TomTom and Garmin).
Tweeting some questions from the Halfords store produced some answers. Peter Crosby, for instance, said his experience with Navman has been a good one. And Neil Dixon who commented on his dad's good experience.
Others had good things to say about other niche (by comparison) brands. Mark Story, for instance, who told me earlier how he likes his Navigon device.
So for better or worse, I've bought a Navman. The acid test will be how good is it at actually getting you to where you want to go. How easy and simple is it to use. What the details are like: map display, the voices, interaction, etc. How to manage content including updates via the desktop app. (And on that latter point: the unit gave me a service pack update from Mio when I first connected it to the app. I noticed the device runs on Windows CE Core 5.0, according to a sticker on the quick start guide.)
The TomTom excelled in all these areas so for me, the Navman has a high benchmark to reach.
A short trip out yesterday suggested the Navman should do well although it was a bit of an iffy start with a suggestion on the route I was taking which I know well: turn left down a road which has been a dead end for at least the past 30 years. The TeleAtlas map should know that.
More to come after a couple of journeys with my Navman Spirit 500 Deluxe Traffic over the next week or so.
What sat nav do you use?