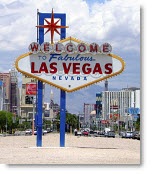 I spent most of the first week of December in Las Vegas, meeting with all my colleagues in the WeissComm Group. I joined WCG in October so other than a handful of colleagues, I hadn't met any of them in the USA, where 90+% of them are, until this trip.
From the business and professional development points of view, what a terrific week! Also from a tourist's perspective: I've been to Vegas a few times before but always enjoy seeing new things on each visit.
I took quite a few photos on this trip, all with my Nokia N95 8GB. I just can't say good enough things about this phone's 5-megapixel camera and all the photographic bells and whistles it has.
Photos are great, but they can also tell an audio-visual story when animated and set to music. That's what the ever-cool Animoto does. See what you think of this story. All I did was choose the pics and select the track; Animoto automagically did the mixing and production.
So turn up the volume, set for full-screen view and click for 2 minutes and 18 seconds of Vegas vistas:
Animoto also posts the video to YouTube. Not such good video quality, though (no HD, for instance).
All the photos in the video are on Flickr if you want to check those out.
Related posts: