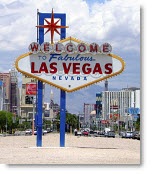 A bit of a dramatic headline, perhaps, but Sin City aka Las Vegas, Nevada, USA, is where I'm headed on Sunday morning on a  Virgin Atlantic flight where I'll be for most of next week, back here in the UK on Thursday morning.
It's been a few years since I was last in Vegas. Each time I've been there, it's been on business and this upcoming trip is no different. So no 'sin' in sight yet I always have a feeling of excitement and wonder on a visit to a city that's an icon, a Mecca, so to speak, for conspicuous consumption of every type imaginable.
As I'll be wrapped up in meetings with Bob Pearson and many of my WeissComm colleagues, there'll be little opportunity for sightseeing on The Strip even though we'll be in a hotel on that same strip.
While in Las Vegas, I'll be in the same time zone as my podcasting partner Shel Holtz., ie, Pacific Time. So in Monday's episode of the FIR podcast, we'll be recording at about 9am local time, with me on Skype from my hotel room. Actually, that's the same time as we usually do it, equivalent to 5pm UK.
Anyway, I'm looking forward to some great days of planning and discussion as well as some socializing. It's doubtful I'll be posting much here while on the road. Lots on Twitter, though.