Microsoft formally launched their Bing search engine in the UK last Friday. I saw a number of reports in the mainstream media on the day itself and one or two posts in the blogosphere. But that's largely it from what I've seen.
Maybe there might have been more written and spoken about the milestone, including a post by me, if my experience at the receiving end of some pretty weak outreach by email had been even a little more thoughtful.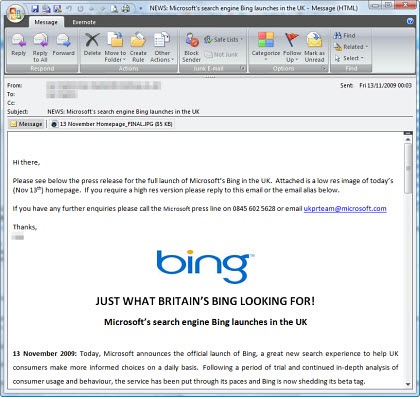 Now I have no idea of Microsoft's PR goals for the UK Bing launch. Maybe a minimalist approach such as the email I received (see the screenshot) is what they had in mind. (Do I really believe that? No, I don't.)
But such an impersonal approach is hardly a message that would persuade me to do anything other than click the delete button in Outlook:
Hi there,

Please see below the press release for the full launch of Microsoft's Bing in the UK.  Attached is a low res image of today's (Nov 13th) homepage.  If you require a high res version please reply to this email or the email alias below.

If you have any further enquiries please call the Microsoft press line on 0845 602 5628 or email ukprteam@microsoft.com

Thanks,
Xxx
I don't know Xxx (real name obviously obscured in order to protect the guilty) and as far as I know, this is the first email I've received from him. We don't have a relationship. So perhaps he thought the 'Hi there' greeting would be appropriate in such circumstances (and thank God it wasn't 'Hey there').
But what a missed opportunity. An impersonal email with bland press release text and not even any links to take you someone online for interesting content – not even to the published press release (which, by the way, I cannot find anywhere online on any Microsoft website in the UK, EMEA or USA) – just an image attachment.
Even something in this email – a word, a short sentence – that suggested some kind of effort at making a personal connection would have almost guaranteed a positive action on my part. Hello, Xxx, wakey-wakey next time.
Instead, here I am writing about such a wasted effort at outreach. Well, a mass email anyway as the address was the same as the sender (suggesting a bcc email distribution).
Still, at least I mentioned Bing in this post and linked to it. Good result from the PR outreach, then.
Related post: