ReadWriteWeb published a detailed post today on research from Razorfish about online consumer behaviours with a strong focus on Twitter and Facebook.
While the overall post makes for interesting reading and is very useful from a fact-finding perspective, what leapt at me from RWW's page were two charts and a concise paragraph.
First, the two charts: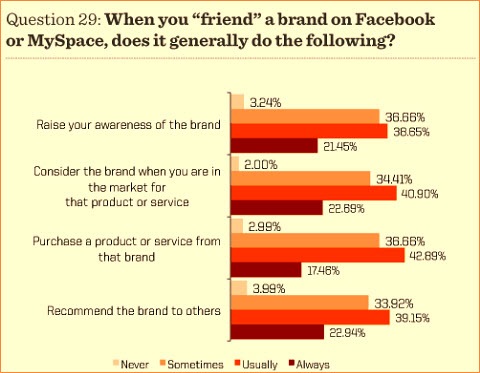 Just look at what people said was their 'usual' behaviour (the bright-red bar). And the highest – purchase a product or service.
Which reflects the top answer to a specific question asking what's the primary reason to be a friend of a brand on Facebook:
In the case of Facebook fan behaviour, content isn't king: getting a good deal is.
Then, the paragraph of text:
[…] An even higher percentage of respondents have "friended" a brand on Facebook – a whopping 40%. Considering that Facebook is a social network that started out as a way for college kids to network, this is a statistic that will make companies and organizations take note. If you want brand recognition on the Web, according to these statistics there's a very good chance that Facebook is a place you want to be.
The bold is my emphasis.
What this text is doing is making a comparison between behaviours in Facebook compared to Twitter.
Even without a comparison, 40% looks a pretty notable metric to me.
A complementary post by MarketingProfs, also published today, gives some sound advice to marketers and how they should behave on Facebook, beginning with a warning worth noting:
[…] A full 44% of people who are fans of at least one company or brand on Facebook also say social networks should be used strictly for interpersonal communication. They don't believe marketers are welcome. To them, self-identification as a fan is not an invitation; it is an expression of personal taste or style intended to be shared primarily with friends.
So the risk is very high that brands – more correctly, the people behind the brands as brands are purely inanimate devices and not people – will not recognize the innate behavioural differences in personal connecting vs marketing messages.
So here's some good headline advice to marketers:
Don't act like "marketers"
Align with fans instead of selling to them
Be quick to listen and slow to speak
When it comes to positive comments, let your fans tell the story for you.
Direct consumers to other channels for marketing messages
All the details are here: