If you're an art lover who owns an iPhone or iPod Touch, you will rejoice today as you can visit the Musée du Louvre in Paris right on your device, wherever you happen to be.
The museum just launched an iPhone app that offers a glimpse into the rich works of art and other treasures you find in the museum galleries in Paris.
Get to know the Mona Lisa. Explore the works of Tintoretto, Titian and others of the Renaissance period. Tour the museum through a collection of videos. Get information about opening hours so you can plan a real-world visit.
This English-language app – not yet mentioned anywhere on the Louvre's website – is available free (App Store link), is a delight and is very well produced.
Even if art's not your thing, you'll enjoy a tour of the museum and learn a little history.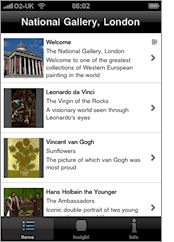 One other art app I've had on my iPhone for the past few months is Love Art, an excellent pay-for app (£1.79 in the UK App Store) produced by Antenna Audio for the National Gallery, London.
This is in another league compared to the Louvre's app as its various sections are more deep audio-visual tours of the content you want to explore.
And what content! Over three hours of video and audio, in fact, covering such a range of all you would find in the gallery if you visited.
Rembrandt is here as is Van Gogh, complete with detailed commentaries and visuals on their major works. You can watch or listen to compelling content on other masters whose works are displayed in the gallery including Leonardo da Vinci, Botticelli and Renoir.
Delightful tools, ones that add real value to your mobile experience.
Now if only there were an app for other iconic museums and galleries. Amsterdam's Van Gogh Museum, for instance.
Antenna Audio again. Nice work!