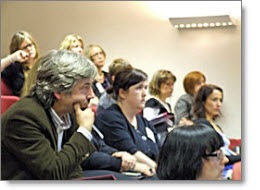 I took part in two excellent conferences last week focused on social media and communication: one in Burnley, Lancashire, the other in London.
The Don't Panic Guide to Social Media in Tourism took place in the splendid Towneley Hall outside Burnley on Thursday. Sponsored by the Lancashire and Blackpool Tourist Board, well over 50 people from across Lancashire gathered to hear about and discuss what social media can do for businesses in tourism.
Event organizer Andy Wake and the tourist board's Sarah Lundy have posted great reviews, accounts that will give you a terrific sense of the venue, the people, the whole occasion. And see what people have to say at the event's #lbtb hashtag
In contrast, Social Media in Business 2009 on Friday took place amid the hustle and bustle of The Strand in central London, where 70 or so people gathered to hear about and discuss what social media can do, and is doing, for business. I've not seen any posts yet about this event although the vibrant and lively #smib09 hashtag is surely as good as any blog account. And check the photos on Flickr under the smib09 tag.
Two different focuses yet two events where all the people were there to ask similar questions: how do I make social media work for me and my business? And in both cases, we heard some terrific example of what some people are already doing and what they've learned – some pitfalls included.
What this suggests clearly to me is that no matter what type of business you're in, and what type of organization you are – whether a global multinational or a small B&B in west Lancashire – you want to connect with people in ways that are effective and that enable you to build better relationships.
When you're online, everyone has exactly the same opportunities.
And everyone I met at both events who were doing something, or wanted to do something, all had three big things in common – open minds, strength of conviction and courage to just try something new.
If you have that, nothing can stop you.
(Photo by Andy Wake)