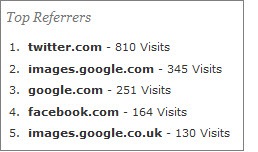 I was just studying the stats from Google Analytics that display within my blog's WordPress admin dashboard, and noticing where visitors tend to come from.
This isn't geographical so it's not countries I'm talking about. No, it's the referring site or place on the web where someone clicked a link that brought them to a post on this blog.
The screenshot shows the referrers list from yesterday. It didn't really surprise me to note that top of the list of referrers is Twitter, nor that Facebook as a referrer is in the top five as well – these two networks have featured in this top five list for quite some time.
Twitter's probably easy to understand when you know that every time I publish a post here, the Twitter Notify plugin for Windows Live Writer tweets the title of and link to that post. People see it on Twitter and click the link to have a look.
What did surprise me was seeing so many inbounds from Google Images from two different top-level domains. I tend to write posts that include images of some kind – screenshots and photos I take with my camera that obviously get indexed by Google, as well as Creative Commons-licensed images from Flickr, royalty-free pics, etc.
Useful knowledge to have. Indeed, knowing even a little about which other places on the net are the drivers of most visitors to your blog means you know where you also need to be paying attention.