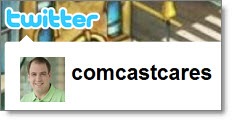 One of the most oft-cited examples of how Twitter can open up effective communication channels between the customer service parts of an organization and its customers is the US entertainment and information services provider Comcast and a man known on Twitter as @comcastcares.
That man is Frank Eliason, Senior Director, Comcast National Customer Service, who has diligently and consistently engaged with his company's customers and other on Twitter – people often very unhappy with Comcast's service – since March 2008.
BusinessWeek had a terrific profile of Eliason in January in which it describes his strategic approach to using Twitter as an engagement channel with customers.
Now TechCrunch brings word from Comcast's CEO Brian Roberts who describes the far-reaching effects Eliason's activities have had on the company as a whole:
[…] [Twitter] has changed the culture of our company, Roberts said. Comcast has for a while now been using Twitter to scan for complaints and engage with customers. The idea was not his, but rather rose organically when someone in the company realized that a lot of public complaints were being sent over Twitter.

Roberts went on to note that "Famous Frank," also known as Frank Eliason (Comcastcares on Twitter), now has 11 people working under him simply to respond to information about Comcast being broadcast on Twitter. Roberts says that it's an entirely different kind of dialogue coming in then the usual phone complaints, and he seems very pleased about the work the team has done with the customers on Twitter.

He also noted that it's not just Twitter the company is using now to engage with customers. They also use Facebook and some of the other networks.
Another organization's far-reaching experiences with, and the culture impact of, Twitter and other social media tools come readily to mind – Dell.
Two different organizations but with one key thing in common: individuals within those organizations who understand what direct, unfiltered and honest engagement means, and have the confidence, ability and senior-level support to put into action some change-making principles.
Great examples.