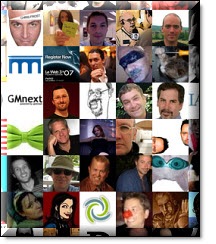 Do you ever pause and think about the avatar you use online as the visual representation of you: your persona or alter ego? What it says to others about you and the organization you work for or represent?
Avatars are creeping into business environments and will have far reaching implications for enterprises, from policy to dress code, behaviour and computing platform requirements, according to a report from industry analysts Gartner.
Gartner predicts that by year-end 2013, 70 percent of enterprises will have behaviour guidelines and dress codes established for all employees who have avatars associated with their organization when they're online.
Gartner suggests six tactical guidelines that organizations can follow to make the best use of avatars in the business environment:
Help users learn to control their avatars
Recognize that users will have a personal affinity with their avatar
Educate users on the risks and responsibilities of reputation management
Extend the code of conduct to include avatars in 3D virtual environments
Explore the business case for avatars
Encourage usage and enterprise pilots.
Read the detail of these in Gartner's report.
I'd add four more:
Encourage employees to consider how their avatars will appear to others in different cultural environments: what's amusing or looks cool in the UK, for instance, may have very different reactions from people in, say, India or Brazil.
Help everyone understand and respect the intellectual property rights of others: if someone wants to use an image or artwork created by someone else, they must ensure that the creator has given permission or that it's clear what type of usage by others is allowed (eg, through a Creative Commons copyright license).
Produce some simple how-to tutorials that help employees with the practicalities of avatar creation: the objective here is to help ensure that everyone is able to create their avatars to a high quality and that images look good however they're sized.
Involve employees in different areas of your business in defining avatar usage best practice: don't just create a policy and simply cascade it out in the traditional way.
Although 2013 is less than four years away, organizations should have guidelines in place well before then as more interactions between people happen online and such interactions are key to a fundamental aspect of building relationships: trust. That's the most important point, in my view, which is directly relevant to the bigger picture: reputation.
Just as with overall behaviours online where developing guidelines to help everyone understand what are the rules of engagement – especially significant in the wake of the FTC's announcement last week – how employees visually represent themselves online to others needs similar consideration.
(Cross-posted from Common Sense, the WeissComm Group blog.)