The final week of the party political conference season is upon us: this week, it's the Conservative Party in Manchester with all the media attention on the party and its leader David Cameron, who could be our next Prime Minister if speculation translates into actual votes in the forthcoming general election which will take place before June 2010.
What I've been wondering recently is how the political parties will use the web generally and social media particularly to communicate and connect with voters.
Given the successful and prominent role such channels played in the American presidential election last year, it seems pretty clear that we'd expect to see many similarities in use of the web and online forms of communication in UK election campaigning as well.
A good indicator of that comes with MyConservatives.com, a new website launched on the eve of the party conference which, as The Guardian describes it, is intended to simplify the campaigning and fundraising process.
[…] "MyConservatives is a first in UK politics, and probably the most advanced party political campaigning network of its kind outside of America," said Cameron. "Although the general election is still likely to be months away, the campaign to gear up our supporters and give them simple-to-use tools to make campaigning easier is already underway".

[…] Micro-fundraising, popular in the charity sector through websites such as Just Giving, but not common in the UK political sphere, will be an important part of the site.

Users will be able [to] support local candidates and issues or wider national campaigns. The site will house tools to allow people to set up telephone canvassing systems from home, connect with other supporters, set up campaigns or recruit other activists.

"Over the last few years my party has talked a lot about how the internet is changing the nature of society," said Cameron. "We recognise that the nature of modern communications means that we should disperse information and decision-making away from the political elite to the man and woman on the street".
I've signed up on the site, not as political support but rather to see more clearly how it works.
While it's pretty impressive in the breadth and depth of content about campaigns and issues you can get involved with, what's impressed me more is how well the site uses social connectivity tools that make it easy for anyone to simply click their mouse and share content with others.
Not only that but it's easy to make donations, almost of the impulse-decision type common at the supermarket checkout or online store that lets you pay with one click: easy to decide and easier to act upon.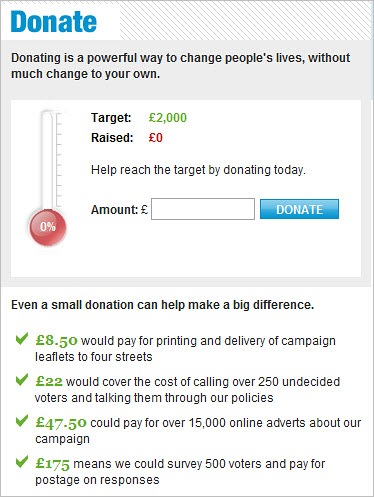 When you click the 'Donate' button, you go to a payment page to complete your transaction with your credit card details. Imagine the greater simplicity and acceptance if you could pay with PayPal or Google Checkout: even easier.
In the lead-up to the general election, the web is going to play a big role in connecting people with campaigns, ideas, issues and other people.
Here we have a very strong start from the Conservatives. I wonder what Labour and the Liberal Democrats are going to do. And the myriad other parties who will be looking for support for their voices in the next parliament. One thing about the web and social media – size doesn't matter.
One prediction: if you think junk mail – the paper stuff that comes through your letterbox – is a pain, just wait until online campaigning gets going.
Finally, Twitter is a great tool to track what's going on in politics especially via Tweetminster ("the place where real life and politics tweet") which aggregates lists of MPs who tweet. The live timeline is useful to get a snapshot of what the niche is talking about.
Only 14% of Conservative MPs are on Twitter compared to 59% of Labour MPs, according to Tweetminster. I'd expect the Tory number to increase considerably during the coming months.
Tweetminster also aggregates prospective MPs who use Twitter: useful to connect with those who aspire to parliament. After the MPs' expenses scandal, there's much new blood with different ideas (hopefully).
Make no mistake: the social web will be huge in the forthcoming election battle.
Related posts: