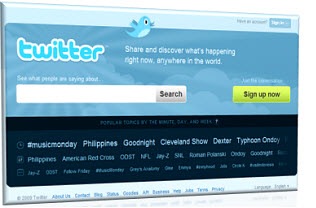 Discovering new people on Twitter is what I find to be one of the most valuable elements of the service.
Such discoveries can happen serendipitously (eg, you stumble across someone while searching for something unrelated) or by design (eg, you employ the services of Mr Tweet).
Then there are lists of names that enterprising and generous individuals create, lists that you find valuable because they're the types of list you'd love to create but don't have time, don't know how or some other reason prevents you.
One such list I find very useful is 100 PR People Worth Following on Twitter, published this weekend by Valeria Maltoni.
To me, one of the great things about this list is that it contains around 20 people on Twitter who I don't know. A terrific discovery!
Yet as a list, it isn't easy to connect with everyone. What you have to do is click on each individual Twitter ID and then follow the tweeter when you get to their account page. Not ideal.
Enter TweepML, a nifty service that lets you create and share groups of Twitter users. It was designed precisely for things like Valeria's list and it's easy to use so anyone can create and share a list.
Which is what I did. I took Valeria's 100 tweeters, created a text file and fed it to TweepML. The result is PR 100 where you can follow 100 PR tweeters with just one click. So click the button!
Valeria created her 100 names in alphabetical order. There's no weighting or ranking of any type, just 100 people she suggests as worth following:
[…] I thought I'd show you one of my collections on Twitter – that of professionals who do PR right. By that I mean they are helpful and pay it forward.

I'm not going to rank the list, because some of these professionals serve a niche segment or a specific industry. Instead, I will list them in alphabetical order. Some of these people may not meet your definition of Twitter "famous". I chose them because they participate and contribute, on Twitter and to the profession, not because they have a known name – you should do the same.
Valeria's list won't include everyone in PR: you may find some people not included who you think ought to be in such a list. And there may be some who you or those included may not be 100% involved in PR (I'm one of those). Well, this is Valeria's list, after all. Enjoy it!
Thanks, Valeria, a great example of how you live up to your online persona as @ConversationAge(nt).
Btw, ReadWriteWeb has a great write-up about TweepML, which is how I found out about it.
[Later] Looks like some people describe themselves as not being strictly in PR, or think labelling a list like this is pointless.
I can't do anything about Valeria's original post. But if anyone would like to be deleted from the TweepML list, please leave a comment on the list itself asking, and I'll take care of it.
By the same token, if anyone who isn't in the list wants to be in it, leave a comment too. There's a limitation of 100 names maximum in any TweepML list so bear that in mind.