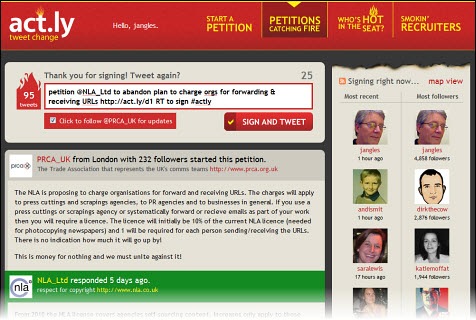 Last month, I wrote about plans by the Newspaper Licensing Agency (NLA) here in the UK to introduce a scale of charges for anyone in the PR business who uses a link on their own website to any mainstream media content elsewhere online.
PRs need to get a license from the NLA first, in other words.
So what's been happening in the month since the kerfuffle blew up? Not a lot new or further developed, as far as I could tell in looking around the online PR landscape.
That's until @Wadds pointed out to me the petition started by the Public Relations Consultants Association (PRCA), a screenshot of which is shown above.
In its petition, the PRCA says this:
The NLA is proposing to charge organisations for forward and receiving URLs. The charges will apply to press cuttings and scrapings agencies, to PR agencies and to businesses in general. If you use a press cuttings or scrapings agency or systematically forward or recieve emails as part of your work then you will require a licence. The licence will initially be 10% of the current NLA licence (needed for photocopying newspapers) and 1 will be required for each person sending/receiving the URLs. There is no indication how much it will go up by!

This is money for nothing and we must unite against it!
If you think that what the NLA is proposing, and their reasoning behind it, are simply wrong, then sign the petition (I did). And, if you want to keep up with developments, follow PRCA on Twitter.
Thanks.
Related post: