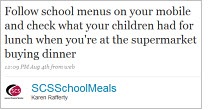 An imaginative use of Twitter.
Somerset County Council in southwest England is set to use Twitter to tell parents what's on the lunch menu for their children at school.
This idea is part of the Council's My School Lunch initiative, which includes an interactive website for teachers, parents and kids. The site asks parents to let the Council know what they think about the lunch menu.
The 'tweet the menu' service will be trialled for one term, with the results to be published online.
[…] From the start of the autumn term, the Council's Somerset County Service will tweet each morning from @SCSSchoolMeals with the day's lunch menu for all 88 schools across the county.

Parents, grandparents or carers can sign up to the service, which will also update subscribers on special theme days, tester sessions and how to apply for free school meals.
The barriers to entry for experimenting with new communication channels like Twitter are so low that anyone can try it out, whatever business you're in.
All you need is some imagination, something that Karen Rafferty at the Council's marketing department clearly has in abundance.