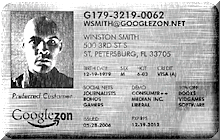 Has the government finally got it right re the controversial identity card scheme for the UK?
The Home Office is now talking less about counter-terrorism and more about easing travel in Europe, says eWeek Europe.
[…] in a rather downplayed statement on the benefits of the card, Home Secretary Alan Johnson opted to avoid the rhetoric about preventing acts of terrorism which have previously been attributed to the ID Card and instead appeared to argue that citizens already carry around plenty of pieces of plastic already and the ID Card was just another, albeit important, addition.

"Given the growing problem of identity fraud and the inconvenience of having to carry passports, coupled with gas bills or six months worth of bank statements to prove identity, I believe the ID card will be welcomed as an important addition to the many plastic cards that most people already carry," he said.
So it's not Big Brother at all, it's really about the government making it convenient to travel abroad. Got it.
The BBC also has this story (as do many other mainstream media) although their focus is rather dry. I much prefer the license I've taken with eWeek's story and the out-of-context quote by Alan Johnson that I've used in this post (I might be good as a tabloid sub).
The BBC report does have a terrific graphic showing what the eventual (yes, it will come, I'm pretty sure) UK ID card might look like and how it might work.
Not as dramatic as my Winston Smith concept, though.