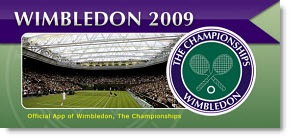 If you're a Wimbledon fan and you have an iPhone or iPod Touch, and you want to keep up with what's happening at this year's tennis championship no matter where you happen to be, there's a treat in store for you.
Just head over to the App Store and install the Wimbledon iPhone Application.
It's free and works on an iPhone running the new OS 3.0 (I have it installed). The minimum requirement is OS 2.0.
I'm not a huge tennis nor Wimbledon fan but I love this app and being able to check what's happening at any moment. In using it now and again over the past couple of days, I note that information is being updated pretty regularly.
As a result, I'm becoming confident that I'll be able to get timely news and results close to when it all happens at Wimbledon, from wherever I happen to be.
As you'll see from the screenshots on Flickr, the app gives you news, scores, match schedules, draws timeline and videos (these are especially good) via touch points at the bottom of the iPhone screen.
I like the consistent branding in colours and logo, both for Wimbledon itself as well as how sponsor IBM has integrated its logo discreetly into the overall Wimbledon branding.
This is an excellent app. If I had one niggle, it would be that the font used is a bit on the small side for my squinty eyes that need glasses: it would be great if there were a setting to adjust the type size.
An app for the iPhone isn't all that IBM's developers have created, though.
Check out the Mobile Services page on the Wimbledon website – lots more there including the IBM Seer. What is it? This from IBM's press release last week:
[…] The Seer Aggregator is a downloadable Twitter application enabling fans to receive specific Wimbledon real-time 'tweets' from a variety sources, including players, commentators and a team of IBM scouts at the event.
I have that installed on my Nokia N95 8GB from where these screenshots come (notice the one with a tweet from Serena Williams).
There's also an augmented reality experiment with IBM Seer beta for G1 and G2 Android phones (find where the strawberries are!) – check out this video and blog post that clearly explains what it is and how it works.
And with a game for mobile, there's plenty about Wimbledon 2009 to keep you informed and entertained for the duration of the championship, from June 22-July 5, wherever you happen to be.
Two words to all the app developers: Nice job!