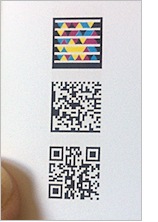 A post by Frank Eliason on business cards got me thinking a lot about the value of such bits of paper.
And they are bits of paper, aren't they? Name, title, company, logo, address, phone, email, etc, printed on rectangular bits of stiff paper. The format hasn't really changed in years.
Yet it's a format we're accustomed to in that aspect of social intercourse when we meet someone, typically in a business setting and exchange printed cards with our contact information.
But in this day and age, it's a highly inefficient way of providing someone with a means to connect with you as it requires that someone to take that bit of paper and process it before he or she can get value from the information it contains.
But hang on a minute, there is a way to make that bit of paper provide the receiver of your card with some real value. And it's very easy to do.
Let's just accept one reality that printed business cards will be with us for some time and will continue to be the primary means of exchanging contact information for a majority of business people.
That doesn't mean the cards have to stay as dumb as they are. Instead, let's make them smart by adding content that can easily be captured digitally and made readily useable, and in a way that's easy and very low cost.
No, I'm not talking about scanning business cards: that typically requires hardware (a scanning device) and then software to interpret the scanned image to make it usable and searchable.
I'm talking about adding something to your card that you can use with the camera on your mobile phone and which enables you to get far better value from the information it yields.
I'm talking about mobile barcodes.
The image you see at the top of this page shows three mobile barcodes that appear on my business card.
Here's what the card looks like (click on the image to see the card more clearly).
Each of the barcodes contains the same information – a link to my website (nevillehobson.com) – that you capture by pointing your mobile phone camera at one of the barcodes and interpreting the coded image via freely-available applications such as i-Nigma for mobile phones like my Nokia N95 8GB (to scan the lower two black-and-white codes you see) and Microsoft Tag reader for a wide range of mobile devices including the iPhone (to scan the top coloured code).
Once the software on your phone recognizes the data in the code, it presents you with a link you can click on to launch your phone's browser, connect to the net and come to my website. You can save the link as a bookmark, email it to someone and generally make far more effective use of the data than that on a bit of printed paper.
You could then dispose of the printed card (recycling recommended).
What I've done is a very simple use. I could have made the link even more valuable. A vCard, perhaps, that you could download. Maybe a video. A Google Maps link. Some other useful content that you might find valuable.
You can try the barcodes right now – if you have an app like i-Nigma on your phone, or Microsoft Tag, try one of the codes here with your phone's camera. I bet it will work for you.
Creating the barcodes couldn't be easier, either at the Microsoft Tag website or a variety of places for the other two (I use the Nokia Mobile Codes site). And I printed the cards myself using Avery card stock on the HP OfficeJet Pro 8500 Wireless printer that I'm trialling.
You might be wondering what's with three different barcodes. This Wikipedia entry will tell you a bit about the development of all mobile barcodes including the two black-and-white ones I've used known as QR and Datamatrix, and there's separate information about the newer Microsoft Tag in colour.
And wait until you see what Nokia's experimenting with in Nokia Point and Find. And, take a look at something interesting that RadarDDB is doing with mobile barcodes with their social media brandscape (ask Matthew Yeomans to explain it).
So barcodes on business cards really are a very simple implementation of something with huge business possibilities.
I was at the IABC World Conference in San Francisco last week, and exchanged business cards with quite a few people. My barcodes prompted a lot of discussion (one of the great benefits right now that guarantee your cards some attention) and I'm sure others will now be experimenting just as I am.
I did encounter one person who was really up-to-date with electronic business cards. That was Jason Falls who had Bump on his iPhone. So I got that free app, too, and after a bit of a nudge with our iPhones, we'd exchanged contacts.
Didn't see many other iPhones, though, mainly lots of Blackberries.
Meanwhile, I'm deciding what to do with the 26 printed business cards I collected from my exchanges that don't have any barcodes. Suggestions welcome.
(Hat tip to Pete Blackshaw for his tweet about Frank Eliason's post.)
[Update November 25, 2012:] While QR codes on business cards have still to make a major impact, there's another technology that offers very interesting possibilities – NFC or near-field communication. I've written about some experimentation with this, focusing on what innovative business-card printer MOO is doing with NFC buisness cards in Could NFC make the business card really useful?
Related posts: