About a month ago, a package arrived from the US via FedEx containing a slim paperback that was the advance uncorrected proofs of Ignore Everybody, the first mainstream-published book from cartoonist and entrepreneur Hugh Macleod, author of the blog Gapingvoid.
The book, published in hardback by Penguin, launched on June 11 and you can buy it online from, eg, Amazon US and UK. There's also a Kindle edition and, soon, an audiobook.
I read the proof  as soon as it arrived. Last week, I read it again. It doesn't take long and it's a cracking read.
I first came across Hugh's blog back in 2004 – who didn't? – and was hooked on his irreverent and often-outrageous style of cartooning.
Like many at the time, I did the "my business cards have Hugh's cartoons on the back" as one way of standing out and being different. I even did the Gapingvoid cartoon t-shirt, too (still have it and, amazingly, it still fits).
I first met Hugh in the flesh at the London Geek Dinner in June 2005 [correction] at the first Les Blogs conference in Paris in April 2005 – check out the youthful Hugh! – and have bumped into him from time to time over the years. I've kept close attention on most of his always-interesting ideas in action, like the discovery of English Cut, Stormhoek wine discounts in 2006 and 2007, and the "Microsoft, change the world" social object idea.
Plus of course I've had Gapingvoid.com in my RSS reader since 2004. Today, though, it's more likely that I keep up with what's going on with Hugh via Twitter.
So I approached reading Hugh's new book with some anticipation. It didn't disappoint. For me, it was like re-acquainting myself with an old friend and discovering some new things about him that I hadn't fully realized before.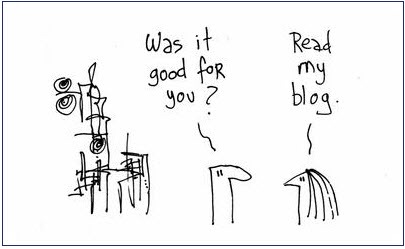 Interspersed with many of the cartoons he's published on Gapingvoid.com, Hugh's book offers edgy, humorous perspectives on understanding your true self and how to really connect with other people.
If you've been a long-time reader of Hugh's blog, or if you've read The Hughtrain from early 2004, and perhaps How To Be Creative, the PDF manifesto which Hugh published via Change This in October 2004, then you'll have a good idea of what to expect in Ignore Everybody.
Perhaps the best comment about a book anyone reviewing it can say is this – you'll read this book quite quickly in one go (it's perfect for a 2-hour plane or train journey, for instance). Then you'll read it again a little later, as I did. And then you'll be coming back again from time to time to pick out quotes or laugh at a cartoon, this time with better understanding of the deadpan humour behind it.
And you'll find it useful. Worth reading, therefore.
Rock on!