When I arrived at San Francisco International airport on Saturday after a 10-hour flight from London, I switched on my Nokia N95 8GB mobile phone.
This is my primary phone, on an account with Vodafone UK.
I had a few SMS messages, one of which being a text message from Vodafone advising me of their rates to make and receive calls to and from the UK.
Stay on Cingular (AT&T) for the best rates to the UK. Calls cost 135p per min to make, 99p per min to receive. Texts cost 35p + home rate.
£1.35 a minute to call the UK? The best rate? Such a sense of humour, Vodafone. You may well be running a customer promotion for no-roaming costs in Europe at the moment, but your roaming costs in the USA are outrageous!
So I removed the Vodafone SIM card from the unlocked phone and inserted the Qik Roam SIM card I'd received from Jackie Danicki at Qik and which I'd paid for top-up airtime credit before I left the UK, as well as purchased rights for one month to an area code 415 number (so anyone in the US who wanted to call me could call that domestic number).
Qik Roam is a reseller deal with Irish company Cubic Telecom's Max Roam service, launched in April.
Now check this chart showing Qik Roam's rates to make and receive calls to and from the UK while in the USA: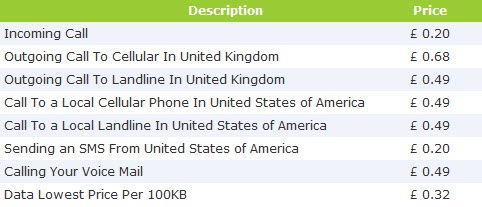 To make a call to the UK:
£1.35 a minute – Vodafone
£0.68 a minute (£0.49 if to a landline) – Qik Roam
Receiving a call from the UK:
£0.99 a minute – Vodafone
£0.20 a minute – Qik Roam
I made $13-worth of calls to numbers in the UK while I was in the USA plus a couple to 415 numbers in the US. That's roughly equivalent to £8. If I'd done that on my Vodafone (roaming) account, the averaged-out cost would have been closer to $26 or £16.
A no-brainer to see why the Qik Roam SIM stayed in my phone until I arrived back at London Heathrow yesterday.