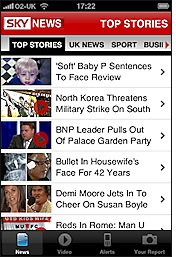 European satellite TV company Sky News has launched an iPhone app that enables you to receive the broadcaster's news and information content on your iPhone or iPod Touch.
The free app offers a rich array of content including news, sport, business, weather and more in words, pictures and video.
You can sign up to get SMS alerts to your iPhone – each alert you receive will cost you £0.25 – enabling you to keep in touch with events that interest you wherever you happen to be.
It's a nicely done app, one that I will use alongside other business-focused apps that I find useful such as the Wall Street Journal and Thomson Reuters apps for iPhone.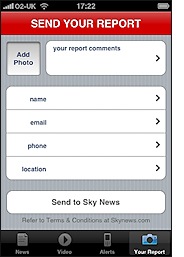 Where Sky News offers something really interesting with theirs is the feature that lets you send in a report to Sky News from your device.
How it works is easy as the screenshot suggests. First, you type in your text, describing the event or story or whatever it is you think that's newsworthy that you want to report.
If you want to add a photo, either from the images on your phone or by taking one there and then with your device's camera, you can do that.
Then you complete the simple form with your name, email address, a phone number and location, hit the 'Send to Sky News' button and off it goes to someone at Sky News.
What a terrific way to create an easy and spontaneous procedure for anyone with an iPhone or iPod Touch to report news as they see it where they are.
Time will tell how this works out in practice. Will Sky be bombarded with dross or will there be genuine newsworthy gems amongst the stream of input they will be receiving? How will Sky use this to develop a connection with these iPhone reporters, assuming that's something they'd want to do?
One thing I'd love to see: the ability to record an audio news report and submit that – think of what you can do with Audioboo – and not just text. Video's not possible on the iPhone (yet).
Looking forward to seeing how another great experiment in mixing up the news system works out.