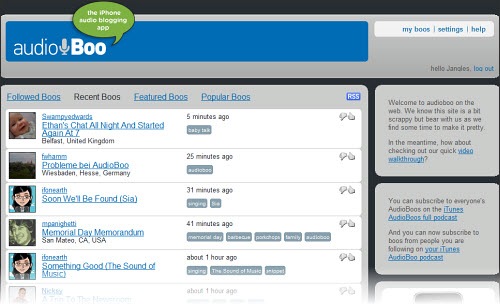 The Guardian had a good story yesterday about Audioboo, the audio-sharing service (and social network) that I started using in March.
Audioboo is primarily an iPhone app where you record up to five minutes of audio that the app uploads to your space on the Audioboo website and publishes it online.
Since starting in March, Audioboo has been adding social/sharing elements to the website including a means to follow other users, and be followed, and indicate your follow/followed status in your account.
Others can vote on your recordings (boos) in a Digg-like way on whether they think what you've posted is any good or not. This feature doesn't seem to be fully implemented yet, though.
Still, Audioboo is the new talk of the net, says The Guardian, a view I don't disagree with if seeing the growing stream of boos in my RSS reader every day is any indicator. The company posted some metrics at the end of April which indicate growth although the Guardian has the latest picture.
[…] In the last week alone more 66 hours of material were uploaded – almost a fifth of its total since March.

This week the website is expected to top more than 1m page views since it launched and 30,000 downloads to mobiles, making it one of the most successful UK-made iPhone applications.
A pity, therefore, that on the day the Guardian story appeared, the service hit the buffers a bit with lengthy delays over much of the holiday weekend in audio content appearing on the website as CEO Mark Rock explained in a blog post last night.
A big massive apology to all our community for the failures over the weekend when boos and activation emails got lost in some weird 5th dimension space for 24 hours or so (not the best thing to happen when Guardian Tech says we're the new talk of the net :).

[…] A small server error which is usually picked up manually caused a back-log of over 30,000 comment notification jobs to be created & internally posted to the main database. The 'job worker' then re-attempted to re-submit these, which delayed all the other server jobs to process the audio clips, to deliver authentication emails for new accounts. Etc, etc…

[…] so apologises to all, buts it's been an eye opener for us. We're going to focus in the next few months on raising some significant finance for audioboo (to be frank, it's a bit of a side project at the moment) in order to enable it to perform on a more stable infrastructure, to exist on many more platforms than the iPhone and to develop some quite interesting API's above & beyond the read/write ones we've already made.
To me, the most interesting part of the post is the casual-sounding "to be frank, it's a bit of a side project at the moment."
One heck of an interesting side project, it seems to me. I wonder if backers 4iP recognize the red-hot potential of this service as the British Library does, reported in the Guardian's story as wanting to use it to capture dialects, accents, oral histories and neighbourhood soundscapes.
[…] "It's not only a recording device, it's also a publishing device and that's its great appeal," said Richard Ranft, the head of the library's sound archive. "It has fantastic potential – it allows people to easily capture an event as it happens. All you need is your phone, you don't have to use recording equipment."
(The Daily Telegraph had a most interesting backgrounder about 4iP at the weekend and what they're doing with a number of iPhone apps including Audioboo in "Apple iPhone apps, from Channel 4".)
Let's not forget one thing, though: Audioboo is only on the iPhone (at the moment, anyway) which doesn't have mass-market penetration, a point my podcasting partner Shel Holtz made in our discussion about Audioboo in yesterday's FIR 451 podcast.
It's not the only game in town for posting audio to the web, either – UK competitors like ipadio (I'm experimenting with this service, too) and, in the USA, Cinch from Blogtalk Radio allow you to phone-in an audio comment from any phone, mobile or landline. Then you have broader services like Utterli. You can use Skype, too.
Audioboo themselves have a couple of toes in the water with Phoneboo which lets you use any phone to post an audio comment. And ipadio just launched an iPhone app as CEO Mark Smith concisely noted over the weekend.
Yet such phone services haven't captured imaginations and got the mainstream media interested the way Audioboo's iPhone-based service has. That could be down to general excitement and the "ooh-factor" that surrounds the iPhone, no matter what anyone does, as much as the sheer simplicity of using it (another factor in iPhone's favour).
Audioboo's iPhone service is different to the phone-in services in at least one significant way: with Audioboo, you record audio on the iPhone itself. The software on the device processes it and uploads it as an MP3 file to the Audioboo server (there's the publishing aspect that Richard Ranft of the British Library pinpointed in the Guardian's story). Audio quality, therefore, is very good indeed.
By contrast, the other services involve making a phone call which is then recorded. The quality difference is obvious.
But I think there's room for all of these services as each offers its users the ability to communicate and share an idea, a thought, a point of view, simply and easily from wherever they happen to be as long as they can get some kind of connection, be it fixed-line, cellular or internet.
As with much social media, the only limit is your imagination. Well, and the infrastructure sometimes.
Related posts: